What does Uber want out of China? If the ride-sharing company avoids being blocked in the People's Republic, it will have done better than Google, Facebook, Twitter and Dropbox. But Uber can prosper only by abandoning what made it successful in the first place.
Chief Executive Officer Travis Kalanick plans to invest $1 billion in the country this year to take on the dominant position of Didi Kuaidi, a ride-sharing business backed by China's largest tech companies, Alibaba and Tencent. He's got the backing of search engine Baidu and claims to now have a 30 percent to 35 percent market share, but still trails Didi Kuaidi in fundraising.
The latest hurdle: Draft rules that would ban the use of private cars for taxi-hailing services and require drivers to pass tests. That would pose problems for both Didi Kuaidi and Uber -- particularly the latter's People's Uber and Uber X products, which allow non-professional drivers to rent seats in their vehicles.
Uber's promise to comply with the new regulations is, in its way, as ominous as the regulations themselves. Thumbing its nose at the rules is the closest thing Uber has to a secret sauce, and is central to how the company has managed to break open so many taxi markets so quickly. In the U.S., championing the interests of consumers against well connected businesses and the dead hand of the state has allowed Uber to pose as a corporate hero. In China, it risks looking like a dissident.
China's concern with maintaining control over markets can be seen in Saturday's statement on the draft rules from the transport ministry. Offering subsidies to drivers to win market share -- a practice followed by both Uber and Didi Kuaidi -- was affecting "social stability," the ministry said. The dry lexicon of Chinese bureaucrats has few phrases more menacing.
It's not hard to see why a company with Uber's global ambitions would want a slice of China. The country is the world's largest car market and increased registrations at an average rate of 26 percent through the decade to the end of 2010: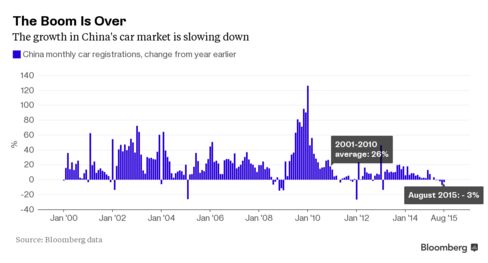 That rate has slowed to an average of 7.2 percent in the past five years, with registrations falling 3 percent in August. As its road network rapidly approaches capacity and cities choke on smog, the country also needs to find ways to transport more people more efficiently. Car sales are already slowing and in the Chinese Communist Party, Kalanick's unstoppable force looks to have finally come up against its immovable object.
The best hope for Uber China at this stage is either to somehow accomplish the Herculean task of reversing Beijing's regulations before they're finalized, or to become just another taxi company in a market dominated by home-grown rivals. That's a sort of survival, but against its ambitions to remake the face of urban transport in other countries, it's a pretty hollowed-out future. What will it profit Uber if it gains a foothold in China, but loses its soul?
This column does not necessarily reflect the opinion of Bloomberg LP and its owners.
Before it's here, it's on the Bloomberg Terminal.
LEARN MORE