Santander Says Portugal Owes $1.6 Billion on `Snowball' Swaps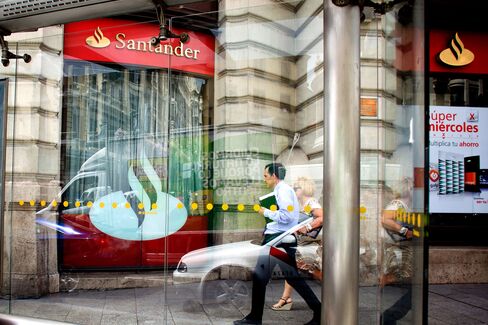 State-owned transit companies defaulted on hedging derivative

Firms say derivative sold by Santander broke Portuguese law
A Banco Santander SA unit told a London judge that four state-owned bus and metro companies in Portugal defaulted on a type of interest-rate hedging derivative known as a "snowball."
The transport companies agreed to the deals between 2005 and 2007 "freely and with full knowledge," Santander's lawyer Laurence Rabinowitz said on the first day of a six-week trial.
The interest rate swaps amounted to a "game of chance" and were an abuse of Portuguese law, the Lisbon and Porto-based companies said in court documents. The total amount owed, 1.4 billion euros ($1.6 billion), is more than three times the value of the loans the derivatives were intended to cover.
Public bodies across Europe bought swaps from banks to protect their loans against rising interest rates, only to be hit with soaring payments when rates fell to record lows after the 2008 financial crisis. Some have sought to overturn the deals in British courts, including the Italian city of Prato and a German water provider, with mixed success.
Interest rate swaps mean the holder either makes payments, or receives them, depending on whether rates rise or fall. They are designed to mitigate rises in the cost of servicing loans. A "snowball" swap calls for payments to accumulate for the length of time the interest rate stays outside an agreed spread, according to the transport companies.
The Portuguese companies, Metropolitano de Lisboa EPE, Companhia Carris de Ferro de Lisboa SA, Metro do Porto SA and Sociedade de Transportes Colectivos do Porto SA, all agreed to separate swaps with Santander and haven't made any payments since 2013.
The contracts were agreed in "good faith" and did reduce costs in the early stages, Santander spokesman William Clutterbuck said. The bank has tried to explore ways to restructure them, he said.
The Portuguese government reached an agreement in 2013 with several banks, including JPMorgan Chase & Co., to reduce liabilities from state-owned firms on derivative contracts.
Santander's Portuguese unit is "very exposed financially" because it is liable to a third party over the swap payments and would bear the cost if the transport companies didn't pay, Rabinowitz said.
There is no allegation of mis-selling, the issue is "who should bear the loss," he said.
Andrew Ford, an attorney for the transport companies, didn't immediately comment when reached by e-mail.
Before it's here, it's on the Bloomberg Terminal.
LEARN MORE