Pimco's Bear Case Only Gets Stronger as Emerging Currencies Jump
Firm sees `wave of deflationary pressure' across Asia

Biggest gains since 1998 test resolve of bearish managers
Pacific Investment Management Co. is sticking with its pessimistic outlook on emerging-market currencies, saying the biggest rally in 17 years has only bolstered the case for making bearish wagers.
"These currencies look more interesting to be underweight from here than they were a week ago," Luke Spajic, an emerging markets money manager at Pimco, whose developing-nation currency fund has outperformed 97 percent of peers during the past five years, said in a phone interview on Monday. Pimco, which oversees $1.52 trillion, said in an Oct. 1 report that it had short positions in currencies such as Malaysia's ringgit, the Thai baht and the South Korean won.
Emerging-market currencies surged last week, recording the biggest rally since 1998 as traders pushed back expectations for when the U.S. Federal Reserve will start raising interest rates. While Spajic said he doesn't know how long the rebound will last, he sees a "wave of deflationary pressure" across Asia that will eventually weigh on currencies as exports and economic growth projections decline.
Pimco's concerns echo those of the International Monetary Fund, which cut its 2015 outlook for the global economic expansion to 3.1 percent on Oct. 6 from a July forecast of 3.3 percent. The fund cited a slowdown in emerging markets, saying the following day that high debt levels at banks and other companies have left developing economies susceptible to financial stress and capital outflows.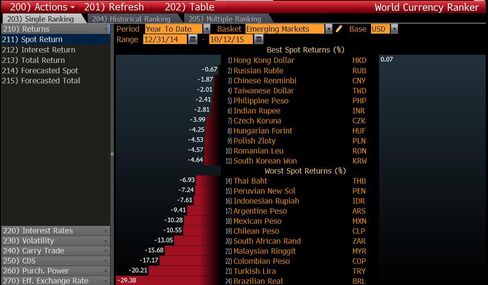 While a Bloomberg index of 20 developing-nation exchange rates sank 8.3 percent in the three months ended September for the biggest quarterly loss since 2011, the gauge has since jumped 3.9 percent. Indonesia's rupiah and the Malaysian ringgit led gains in Asia last week, strengthening 9.1 percent and 6.8 percent against the dollar, respectively. The developing-nation gauge dropped 0.24 percent at 8:30 a.m. in London on Tuesday, heading for its biggest retreat in two weeks.
Another plunge in emerging-market currencies is unlikely anytime soon because China will probably avoid an imminent "hard landing," according to Geoffrey Barker, a hedge fund manager who oversees about $160 million in the Counterpoint Asian Macro Fund. He said he made money betting on the recent surge in the rupiah and the ringgit.
Pimco would need to see stronger economic stimulus from China and more evidence that the Fed will keep interest rates lower for longer before it abandons bearish wagers on emerging markets, Spajic said from Singapore.
"We haven't really changed our views and positioning in terms of where these currencies will be going in a one-year period," he said.
Before it's here, it's on the Bloomberg Terminal.
LEARN MORE