Fed's Brainard Urges Patience in Raising Rates Amid Global Risk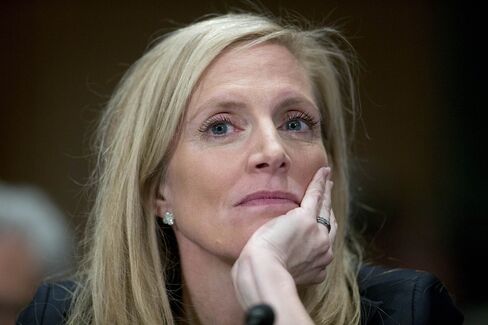 Brainard says risks to inflation `tilted to the downside'

Global cross-currents could weigh more heavily on U.S.
Federal Reserve Governor Lael Brainard said the central bank shouldn't raise interest rates prematurely because foreign risks are clouding the U.S. outlook, taking a more cautious view than some of her colleagues as investors bet the central bank will delay liftoff until 2016.
"Risk management considerations counsel a stance of waiting to see if the risks to the outlook diminish," Brainard said Monday in Washington. "Although the outlook for domestic demand is good, global forces are weighing on net exports and inflation, and the risks from abroad appear tilted to the downside."
Fed officials last month opted to delay a rate rise to wait for more information about how slowing growth in China impacts the U.S outlook. Economic projections prepared for the meeting show that 13 of 17 of the central bankers saw a rate rise as warranted this year.
Brainard declined to say if she favored raising rates this year or next, though her comments were more downbeat than recent remarks by other officials.
Fischer, Yellen and Dudley
Fed Vice Chair Stanley Fischer said Sunday that the U.S. may be strong enough to merit an interest-rate increase by year-end, while cautioning that officials are monitoring slower domestic job growth and international developments to decide the precise timing of liftoff. New York Fed President William C. Dudley said Friday that he remained in the 2015 liftoff camp, provided his outlook remained on track. Chair Janet Yellen herself said Sept. 24 that she expected a rate rise this year would be warranted.
Investors are skeptical the Fed will see enough momentum in the economy to act this year. They have cut their bets the Fed will move and now see a roughly 40 percent chance of a move by the December FOMC, based on pricing in federal funds futures, compared to more than 60 percent ahead of last month's meeting. The probability assumes the effective fed funds rate after liftoff will be 0.375 percent.
Policy makers want to be reasonably confident that inflation is rising toward their 2 percent target before raising rates for the first time since 2006. Their forecasts assume continued solid U.S. growth and labor-market improvement, which could be eroded if a weaker global economy saps U.S. exports or puts more downward pressure on prices.
"There is a risk that the intensification of international crosscurrents could weigh more heavily on U.S. demand directly, or that the anticipation of a sharper divergence in U.S. policy could impose restraint through additional tightening of financial conditions," Brainard said.
'Carefully Nurture'
Those downside risks "make a strong case for continuing to carefully nurture the U.S. recovery -- and argue against prematurely taking away the support that has been so critical to its vitality," she said.
Brainard also said labor-market improvements aren't "a sufficient statistic for judging the outlook for inflation," and highlighted that price pressures have been stubbornly low, even when counting in a drag from energy prices that Fed officials expect will be transient.
The Fed's preferred price gauge rose just 0.3 percent in the year through August, and hasn't touched the committee's 2 percent goal since 2012.
"Although the balance of evidence thus suggests that long-term inflation expectations are likely to have remained fairly steady, the risks to the near-term outlook for inflation appear to be tilted to the downside," Brainard said, citing "the persistently low level of core inflation and the recent decline in longer-run inflation compensation, as well as the deflationary crosscurrents emanating from abroad."
Chicago Fed President Charles Evans said earlier Monday in Chicago that he favored delaying liftoff until mid-2016, though the pace of tightening after raising rates was more important than the timing of the first move. Atlanta Fed chief Dennis Lockhart, at a separate event in Orlando, Florida, argued that the improving domestic economy justified a move in 2015. Both are voting members of the policy-setting Federal Open Market Committee. Brainard, as a member of the board in Washington, has a permanent vote.
For more, read this QuickTake: The Fed's Countdown
Before it's here, it's on the Bloomberg Terminal.
LEARN MORE