Logjam in U.S. Stocks to Ease as JPMorgan Sees Quants in Retreat
S&P 500 realized correlation is close the highest since 2012

Marko Kolanovic predicted the August selloff in U.S. equities
Automated selling from quantitative funds that worsened the August correction in U.S. equities will subside, making life easier for investors who select stocks based on things like earnings, according to a JPMorgan Chase & Co strategist whose bearish research preceded the selloff.
Trading by computerized investors such as derivatives hedgers and others that mainly use indexes have been causing equities to trade in something approaching lockstep, wrote Marko Kolanovic in a note Thursday to clients. Three-month realized correlation on the Standard & Poor's 500 Index sits close to the highest since August 2012, according to data compiled by Bloomberg.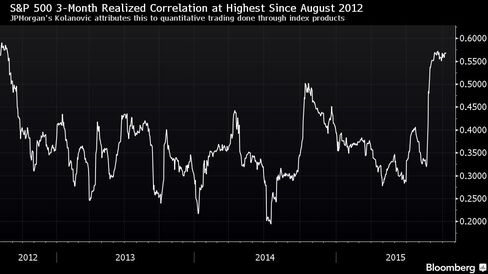 Along with volatility, August's selloff inaugurated a period in which individual shares in the U.S. started moving with less autonomy, rising and falling in unison as panic alternated with relief in the market. For instance, the number of shares traded in declining S&P 500 stocks have gone above 750 million four times since the benchmark index fell to a 10-month low on Aug. 24. It happened three times before that since the start of 2014.
"The abatement of selling flows from these systematic investors and seasonal factors, such as the third quarter earnings season, are likely to lead to lower realized correlation in the near-term," he wrote. Kolanovic said in a note on Sept. 24 that selling by quantitative funds was mostly over and those traders would likely become buyers.
Derivatives measures such as implied volatility, the option-derived measure of coming share swings, have "begun to normalize," according to Kolanovic. The rise in S&P 500 realized correlation has pushed it above market-based predictors of future interdependence the first time since 2012, suggesting investors may already be priming for more variability in moves, he wrote.
The JPMorgan derivatives strategist gained fame on Aug. 27 when he warned that the U.S. stock market was vulnerable to another drop due to selling from "price insensitive" firms whose strategies were altered by the pickup in volatility. He singled out quantitative funds such as trend-following CTAs, risk-parity portfolios and volatility managed strategies. The prophecy was fulfilled: the S&P 500 was flat the next day and plunged almost 4 percent over the following Monday and Tuesday.
Kolanovic followed that up on Sept. 3, when he warned that quantitative investment funds weren't done selling. The S&P 500 dropped 1.5 percent the next day.
Before it's here, it's on the Bloomberg Terminal.
LEARN MORE