Canada's Harper Is Unpopular Except With Those Who Worship Him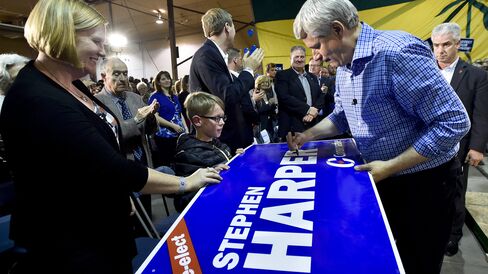 Loyal Conservative base keeps him competitive amid headwinds

Suburban Toronto immigrants hold key to election outcome
Stephen Harper, the longest serving leader in the Group of Seven after Germany's Angela Merkel, faces headwinds the likes of which usually destroy political campaigns: voter fatigue, scandal and a wobbly economy.
So how is it that less than two weeks away from the Oct. 19 election polls show Harper remains in the race? The folks who like him, it seems, like him a lot.
No other party in Canada has as loyal a following, and that matters in a "first-past-the-post" system in which candidates with the most votes, though not necessarily a majority, win. Forty-two percent of Conservative supporters say they don't even have a second choice, more than double the levels for the opposition Liberals and New Democrats, according to polling by Nanos Research.
A phenomenally dedicated base of supporters in western Canada and rural parts of the country give the Conservatives a head start, with many seats practically uncontested in a way rivals could only dream. On the other hand, tending to this base limits Conservative appeal with more centrist voters.
In places like Simcoe County, a farming community about 80 miles north of Toronto, lawn signs for Conservative incumbent Kellie Leitch outnumber those of her rivals by what seems like 50 to one.
"The base is doing just great," Leitch, the labor minister, said in an interview while meeting voters in her district last month. "These folks here have been Conservatives literally for decades, generation upon generation, and they are solid. My responsibility is to make sure they understand their voice is represented in Ottawa."
Conservative Coalition
In winning three consecutive elections, Harper has extended his appeal to suburban immigrant groups -- particularly Asian communities -- that have latched onto his focus on family values and low taxes. They were the voters who handed the Conservatives their first majority in 2011.
All indications are Harper's electoral coalition -- western, rural, and suburban -- is holding. Conservative voters "are either going to double down with Stephen Harper or they are going to stay home," said pollster Nik Nanos.
The latest national averages compiled by polling aggregator ThreeHundredEight.com show the Conservatives at 33 percent, the Liberals at 32 percent and the NDP at 24 percent, giving Harper the inside track to win the most seats in Canada's legislature but not a majority.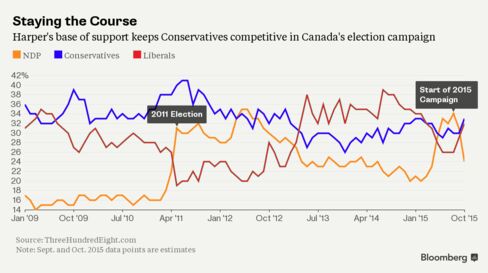 Liberal Resurgence
The majority victory in 2011 with 40 percent of the vote was a high-water mark and won't likely be replicated. Harper benefited then from a relatively strong economic performance during the financial crisis and a mid-campaign meltdown in Liberal support under previous leader Michael Ignatieff. This time, the Liberals are competitive again under Justin Trudeau, who is challenging Harper in the key suburbs around Toronto. Even some immigrant communities -- particularly Sikhs and Muslims -- are gravitating back to the Liberals.
It's surprising that Harper, who first ran for office in 1988, is competitive at all, having exceeded the typical best-before date for a Canadian leader. Some 70 percent of voters went into this election saying they wanted change. His approval ratings reached new lows during the campaign, with 49 percent saying they have negative feelings and just 28 percent feeling positive, according to Abacus Data.
Harper's opponents have also been attacking him on the economy, one of his traditional strong points. Growth has been weak and consumer confidence stands near its lowest in more than two years.
'Bad Movie'
"He's asking you for a fourth term as prime minister," Trudeau told a rally in the Toronto suburb of Brampton last week. "It's like a bad movie franchise. By the time you get to the third or the fourth sequel, most of the stars are gone and the plot's getting really thin."
Just a month ago, pundits were predicting Harper's demise with his party beset by one problem after another, including a Senate scandal that had his former chief of staff on the witness stand in Ottawa. Conservative support hit a campaign low of 26 percent as Harper faced criticism he wasn't doing enough to address the Syrian refugee crisis.
Yet the more trouble Harper faced the more he reached out to a base that often felt marginalized before he engineered a 2003 merger between the moribund, center-right Progressive Conservatives and the Canadian Alliance, a populist western based party. His embrace of social conservative values won him a faithful following while also limiting his potential pool of voters, which is smaller than that of his rivals.
Galvanizing Support
Harper has doubled down in the campaign on his two main messages: economic and national security -- portraying his opponents as dangerous and naive on both. His decision to go slow on the Syrian refugee crisis, while condemned by other leaders and the media, proved popular with his backers. It also helped the Conservatives bring topics such as terrorism and citizenship to the fore, galvanizing core supporters. He's driven a wedge between his party and its challengers over his opposition to allowing Muslim women to wear face coverings during citizenship ceremonies.
"He's got to stand up to people in the world," said Julian Lautenschlager, 60, a retired soldier and long-time Conservative voter from Angus, Ontario. "These other guys are too wishy washy."
The big test will be whether he can hold the immigrant-heavy suburban vote around Toronto, where according to Ipsos Public Affairs pollster Darrell Bricker the "real battle" will take place. The Conservatives are offering their tried-and-true agenda of tax cuts and balanced budgets. The Liberals counter by saying they will increase taxes for the top one percent and cut them for the middle class, and run deficits to prime the economy with infrastructure spending.
Whether Harper can hold these 2011 latecomers to his coalition could be the story of the election.
"The new Conservative base is made up of new Canadians," said Defense Minister Jason Kenney, who led his party's outreach to immigrants. "If only new Canadians were voting we'd expect to do better than the overall population."
Before it's here, it's on the Bloomberg Terminal.
LEARN MORE