These Are the Big Funds That Were Slammed in Biotech's Rout
Diversified funds heavy in biotech down 3.8% since rout began

Fidelity, JPMorgan funds show recent losses on paper
It's not just biotechnology specialists who have been hit by the slide in drug stocks.
Of funds that invest across the stock market, the 20 that had the most exposure to biotech companies suffered a paper loss of more than $5 billion since Sept. 18, according to data compiled by Bloomberg and Morningstar Inc. Three days later, a tweet from Democratic presidential candidate Hillary Clinton helped start what has become a 14 percent slide in the Nasdaq Biotechnology Index.
The biotech-heavy mutual funds, which include the $37.2 billion Fidelity Growth Company Fund and the $15 billion JPMorgan Large Cap Growth Fund, fell an average of 3.8 percent from Sept. 18, the last day of trading before the slide started, to Oct. 6, while the Standard and Poor's 500 Index rose 1.1 percent over that period. The Nasdaq Biotech Index and the S&P 500 each dropped less than 1 percent at 9:31 a.m. Thursday in New York.
The calculation assumes money managers haven't added or sold shares since the most recent regulatory reporting period, which depending on the fund ranges from the end of June through Aug. 31. Among the 20, the $5.4 billion Federated Kaufmann Fund saw the steepest fall, with a paper loss of 7.5 percent. The fund had 10 percent of its money in biotech and 21 percent in pharmaceutical companies, according to Bloomberg data.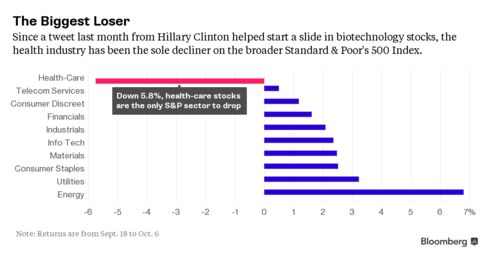 Biotech stocks enjoyed a long rally -- and over the past 3 years the top 20 funds returned an average of 53 percent, compared with 44 percent in the S&P 500, including reinvested dividends. That gives some investors confidence in the funds in spite of recent losses.
Daniel Wiener is chief executive officer of Adviser Investments in Newton, Massachusetts, which oversees $3.3 billion. He put money into a number of funds run by Primecap Management, a Pasadena, California-based money manager that has invested heavily in biotechnology stocks. The $5.9 billion Primecap Odyssey Growth Fund had 16 percent of its money in biotechnology as of June 30, according to data compiled by Bloomberg, and since Sept. 18 has seen paper losses of 4.1 percent.
"The team at Primecap has had a tremendous number of big winners in biotechnology and I have a lot of confidence in their approach," Wiener said.
Wiener said he thinks biotech has fallen out of favor for reasons that have nothing to do with deteriorating fundamentals. "It's really more about politics and the policies of a couple of greedy companies," he said.
The RS Small Cap Growth Fund had paper losses of 7.4 percent from Sept. 18 to Oct. 6, the second-biggest decline using Bloomberg's methodology. Raina Gajjar, an RS Investments representative, said the fund has beaten the Russell 2000 Growth Index in the third quarter and tries to follow the index on how much to invest in different industries.
"The goal is simply to pick better biopharma stocks," Gajjar said in an e-mail.
Representatives for other funds in the group either declined to comment, said they didn't have an immediate comment, or didn't return messages requesting a response.
Before it's here, it's on the Bloomberg Terminal.
LEARN MORE