Russia Expands Syria Campaign by Firing Missiles From Caspian Sea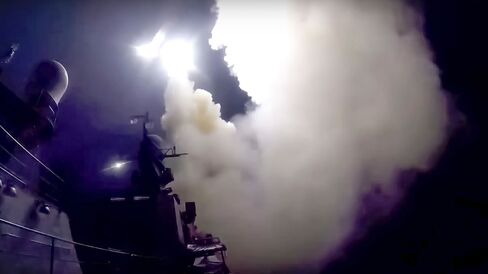 Missiles fired from Caspian Sea hit 11 targets on Wednesday

U.S. defense secretary rejects suggestion of joining coalition
Russia added a new dimension to its military campaign in Syria with warships firing cruise missiles from the Caspian Sea, while President Vladimir Putin urged the U.S. and countries in the region to form a coalition against Islamic State and other militant groups.
Defense Minister Sergei Shoigu reported that Russian bombers had hit 112 targets in Syria since the campaign began on Sept. 30 and that "the intensity of the strikes is increasing." Naval vessels in the Caspian 1,500 kilometers (932 miles) away fired 26 missiles at 11 objects on Wednesday, destroying them all, Shoigu said.
Russia should "continue to work with our foreign partners," Putin told Shoigu in a meeting shown on Rossiya One state television. "Without the participation of Saudi Arabia, Turkey, the United States of America, Iran, Iraq and neighboring states of course, this work is unlikely to be carried out successfully."
Russia is flexing its muscles in its first military campaign outside the former Soviet Union in three decades as it supports Syrian President Bashar al-Assad, who is also backed by Shiite-dominated Iran in the fight against predominantly Sunni groups. While the bombing campaign has escalated tensions between Moscow and NATO members, Shoigu said Russia is ready to accept what he called U.S. proposals on coordinating strikes against Islamic State, a notion dismissed later on Wednesday by Defense Secretary Ashton Carter.
'Precision' Strikes
A video released by the Defense Ministry in Moscow showed what it said was a Russian naval strike group launching missiles from the Caspian that streaked across the night sky, then traced a route across Iran and Iraq, hugging terrain from as low as 50 meters, before hitting targets in Syria within a range of accuracy of as little as three meters.
The strikes destroyed factories producing shells and explosive devices, as well as command posts, warehouses, ammunition and "terrorist training camps," the ministry said. The "high-precision weapons" demonstrated the quality of Russian technology and the "good training of the personnel," Putin, who turned 63 today, told Shoigu at their meeting in Sochi. No civilians were hurt during the attacks, Shoigu said.
Testing 'Toys'
"Russia's ability to strike is limited by the number of aircraft it has in Syria and the danger of having its people on the ground," Ruslan Pukhov, head of the Moscow-based Center for Analysis of Strategies and Technologies, which advises the Defense Ministry, said by phone. "The cruise missiles allow Moscow to diversify its options, with the added bonus of letting the military test its latest toys in a real theater of war."
The Russian strikes were coupled with a ground offensive by Syrian government forces and allied gunmen against Islamist and opposition groups in several areas in the northern outskirts of Hama, the U.K.-based Syrian Observatory for Human Rights said in an e-mailed statement. Five people including children were killed by Russian bombs in the northern outskirts of Hama, the observatory said.
U.S. and Turkish officials, and Syrian opposition groups, have said Russia's airstrikes have mainly targeted moderate rebels seeking to topple Assad. Russian and U.S. experts will discuss technical details on coordinating strikes on Wednesday, Shoigu said.
No Game-Changer
"Despite what the Russians say, we have not agreed to cooperate with Russia so long as they continue to pursue mistaken strategy and hit" targets other than Islamic State, Carter, the U.S. defense secretary, told reporters in Rome. "What we will do is continue basic, technical discussions on professional safety procedures for our pilots flying about Syria. That's it. But we will keep the channel open, because it's a matter of security and safety for our pilots."
Russia's moves "won't change the rules of the game," said Sami Nader, head of the Beirut-based Levant Institute for Strategic Affairs.
"The Russians and the Americans have different objectives in Syria," he said. "The Russians want to prop up a crumbling regime and, to do that, will have to bomb moderate Syrian groups, which is at odds with the American objective."
Russia's continued buildup of ground forces in Syria compounds the concerns of Western leaders, Douglas Lute, the U.S. ambassador to NATO, told reporters Wednesday in Brussels. "The recent reinforcements of the last week or so do feature a battalion-sized ground force," he said.
Turkish Criticism
Interim Turkish Prime Minister Ahmet Davutoglu on Wednesday renewed his country's criticism of Russia's actions, saying that of 57 Russian airstrikes against targets in Syria, 55 have struck moderate Syrian opposition forces while two were directed at Islamic State. Weakening Syria's opposition would also work to strengthen Islamic State, Davutoglu said in televised remarks in Istanbul.
Turkey, whose military is the largest in NATO after the U.S., has vowed to protect its borders after a Russian fighter jet that had entered its airspace was confronted by two Turkish aircraft on Oct. 3.
For more, read this QuickTake: Syria's Civil War
The Turkish Defense Ministry has offered to create a joint working group with Russia to coordinate military activity and prevent Russian incursions into Turkish airspace, Interfax reported Tuesday. Russia's military attache in Istanbul was invited to Turkey's Defense Ministry to discuss the plan, the agency said.
Before it's here, it's on the Bloomberg Terminal.
LEARN MORE