Carlyle Seeks Smaller Targets in Land Private Equity Forgot
Closes fundraising for third dedicated fund targeting mid-caps

Has already made four investments, won't rule out bigger deals
Carlyle Group, which oversees about $193 billion, will use the almost $1 billion in its third Japan buyout fund to acquire family-owned firms and other mid-cap companies, according to its local co-head.
Carlyle, the world's second-largest private equity manager, is known in the U.S. for buying household names for tens of billions of dollars. In Tokyo, it often goes for family-owned companies with enterprise values of less than $300 million. Tamotsu Adachi, managing director and co-representative for Japan, says he's sticking with this approach after finishing raising 119.5 billion yen ($996 million) for the latest fund last month. He says health-care and consumer companies are two of the top targets.
In a market often averse to foreign funds, Carlyle's list of Japan acquisitions shows how private equity firms can close deals by targeting smaller companies and staffing offices with local investment professionals. It's also partly by necessity: so-called mega-buyouts have slowed globally since the financial crisis, and there were never many in Japan anyway. Smaller buyouts are also often more lucrative.
"It's continuing the strategy we had in the past," Adachi, 61, said in an interview in Tokyo. "We have a clear track record."
20 Deals
Since opening a Tokyo office in 2000, Carlyle has acquired about 20 companies from its dedicated Japan buyout funds and exited about half of them, according to Adachi. To counter Japanese executives' reluctance to sell to overseas funds, Carlyle set itself up like a local operation, and all 20 investment staff are Japanese.
"This is very important," Adachi said. "Japanese business culture and how to do business is very different from other countries. So you really have to develop trust and relationships with management and employees of the invested companies."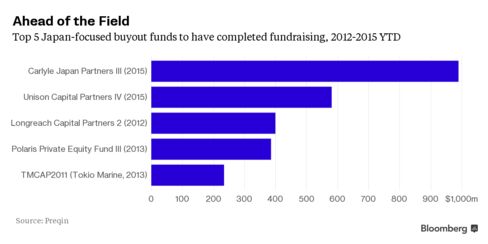 Carlyle is looking to buy businesses that are family owned, have room to expand overseas, or are non-core operations of a bigger company, according to Adachi. The fund is seeking to acquire pharmaceutical, medical-equipment and health-and-nutrition companies likely to benefit as the population ages. Carlyle is also interested in businesses with respected Japanese products that can be sold to Asian consumers, those with "seasoned technology," and industrial firms, he said.
"There are about 400,000 family-owned companies in Japan, and two-thirds of the CEOs of those companies have not found their successors," he said. "And those CEOs are getting older and older," he said. "Not only family-owned companies but a lot of mid-cap companies do not have the capability to grow outside of Japan, although they have very good products, services and so on."
Carlyle has made four investments from the latest fund. Oyatsu Co., a snackmaker, and Sunsho Pharmaceutical Co., which produces vitamins and supplements on contract for other companies, were bought from family owners. Aruhi Corp., which sells mortgages, and Hitachi Metals Techno Ltd. came from larger firms.
Slowing Deals
Private equity buyouts have tailed off and gotten smaller since the financial crisis. Announced deals worldwide fell to $252 billion last year from a peak of $687 billion in 2006, according to a report by Bain & Co. There were no buyouts worth more than $10 billion in 2014, compared with about $200 billion in such takeovers in 2006.
Even in the boom times, Japan was a small part of the market. In 2006, when the U.S. saw $401 billion in private equity-backed deals, the figure in Japan was $5.8 billion, according to Preqin Ltd., a provider of data for the alternative-assets industry. Japan had $2.9 billion in deals last year, against $166 billion in the U.S. The largest private-equity takeover in Japan in recent years came in 2012 with the $1.8 billion acquisition of Renesas Electronics Corp. by a group led by Innovation Network Corp. of Japan, a state-backed fund, according to Preqin.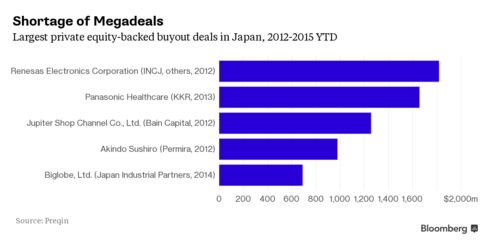 Other global private equity firms have tended to finance buyouts in Japan from Asia-focused funds, rather than keep dedicated pools of money for the country.
Carlyle had 128 funds and 1,700 professionals in 35 offices worldwide as of the end of June, according to its website. Global acquisitions that it has been involved in include the $22 billion buyout of Kinder Morgan Inc. and the $17.6 billion takeover of Freescale Semiconductor Ltd. in 2006, as well as the $15 billion purchase of Hertz Corp. in 2005.
Bigger Takeovers
Not all Carlyle's investments in Japan have worked out. In one high-profile case, Willcom Inc., a wireless carrier that was controlled by the group, filed for bankruptcy in 2010.
Adachi declined to provide details on the latest fund's returns. The California Public Employees' Retirement System, or Calpers, had a net internal rate of return of 34.1 percent on its investment in Carlyle's first Japan buyout fund as of Dec. 31, and a return of minus 3 percent on the second, according to the pension fund's website.
About half the third fund's investors are Japanese, Adachi said, and more than half Carlyle's deals are outside Tokyo. He won't rule out larger acquisitions, he said.
"We'll be carefully looking at larger opportunities, of course," he said. "The opportunities themselves are much fewer in Japan because larger corporations are more conservative. They have high pride and they normally don't make quick decisions to divest their subsidiaries."
Before it's here, it's on the Bloomberg Terminal.
LEARN MORE