Corporate Boards Are a Boy's Club—and Men Like It That Way
Male directors are skeptical about diversity, a report shows
Women are more certain than men that it is critical to have diverse corporate boards, a new study shows.
Sixty-three percent of women on corporate boards said that having female board members was "very important" in PriceWaterhouseCoopers's annual survey of public company directors, while only 35 percent of men felt this way. The company polled over 700 board members for its report, released on Tuesday. On racial diversity, women were less gung-ho, but still valued it more than men did: 46 percent of female directors said that it was highly valuable to have people of color on boards, compared with 27 percent of men. Women hold about a fifth of all board seats at Standard & Poor's 500-stock index companies, according to Catalyst, an advocacy group.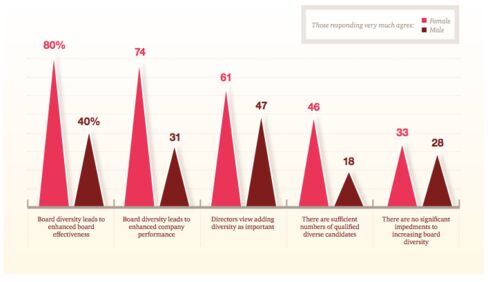 Female directors were also clear on the specific benefits of having women colleagues. Women were twice as likely as men to say that diversity makes boards more effective and pushes companies to improve performance.
Men and women also disagreed about how difficult it would be to make boards less male. Forty-six percent of female directors said there were enough diverse candidates to choose among, vs. just 18 percent of male colleagues.
Newer board members were more attuned to the value of diversity. Sixty-two percent of people who had spent less than a year on a board said they "very much" agreed that diversity was crucial. Just 39 percent of people who had the job for more than 10 years felt as strongly.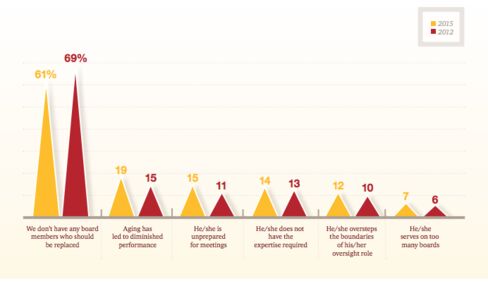 Older board members seemed to be facing unique pressure to leave their posts. Nearly 40 percent of the board members surveyed said someone on their board should be removed, up from 31 percent three years ago. The top reason that people gave for their disappointment? Aging, which was said to have led to "diminished performance."
Before it's here, it's on the Bloomberg Terminal.
LEARN MORE