When Will the Bank of England Raise Rates?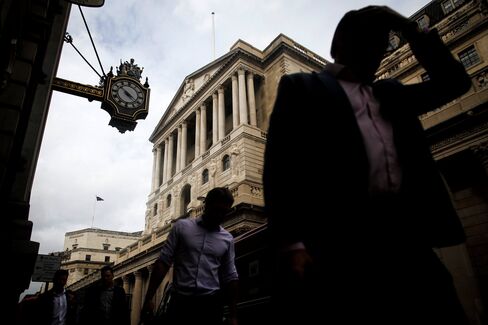 Bank set to keep key rate at 0.5% on Thursday, survey shows

Officials will publish fresh assessment of international risks
The U.K. economy is losing its fizz and it might be a while before it gets going enough to spark inflation.
Bank of England Governor Mark Carney and his fellow policy makers will publish their assessment of the cooling environment on Thursday, alongside their latest policy decision. A report this week showed services grew at the weakest pace in more than two years, signaling a slowing economy that underlines the case for holding the key rate at a record low.
Since the September policy meeting, signs of a faltering expansion and the Federal Reserve's decision to delay its tightening prompted Bank of America Merrill Lynch, JPMorgan Chase and Royal Bank of Scotland to push back their BOE forecasts. The weaker outlook also raises the question of when inflation will strengthen enough to warrant a rate increase. While Carney has insisted the decision will come in to focus at the turn of the year, consumer-price gains have lagged the central bank's 2 percent target for 20 months and the latest data showed a rate of zero.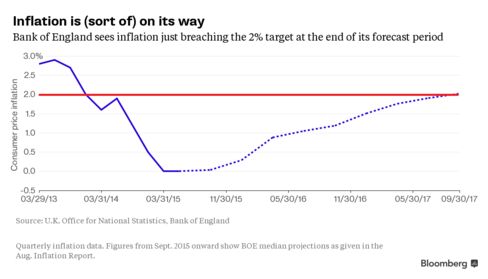 "The data flow from the past month must have made the BOE more cautious about the outlook and how the U.K. will ride this storm out," said Rob Wood, an economist at Bank of America in London and a former BOE official. "That means dialing back hawkish words. The U.S. data has softened, there's been no real change in Chinese data, from a very broad view there are further signs of stress in emerging markets."
China Outlook
Officials will leave the key rate at 0.5 percent, according to a Bloomberg News survey of 41 economists. Wood predicts the BOE will lift the rate by 25 basis points in May next year, compared with February before. Investors see it happening even later than that -- Sonia forward contracts don't fully price in an increase until after November 2016.
Central to any view on the likely timing is the U.K.'s battle with an unfriendly international backdrop. China's slowdown is continuing to feed economic strains in other emerging markets, and "heightened uncertainties abroad" prompted the Fed to disappoint expectations for a rate increase and maintain emergency policy settings on Sept. 17.
Minutes of the Monetary Policy Committee's October meeting will be scrutinized for any change in language on the global environment. Last month's said that while the central outlook hadn't changed materially, the risks warranted "close monitoring for any impact on domestic economic activity."
IMF Forecasts
The BOE will publish the minutes -- showing how officials voted -- at noon in London on Thursday, alongside the rate announcement. Officials actually made their judgment on Oct. 6 to allow some of them, including Carney, time to fly to Peru for the International Monetary Fund's annual meetings.
In its latest projections, published Tuesday, the IMF raised its 2015 U.K. growth forecast to 2.5 percent from 2.4 percent. It cut its global figure to 3.1 percent from 3.3 percent.
So far, one MPC member has worried that emerging cost pressures justify an immediate tightening. Ian McCafferty has been alone on the MPC in voting for a quarter-point rate increase in the last two months.
A pickup in pay is bolstering consumers' spending power and helping the push for higher rates. Wages grew an annual 2.9 percent in the three months through July, the fastest pace in more than six years. The labor market remains strong, with the jobless rate down to a pre-crisis level of 5.5 percent. And core inflation, which excludes volatile components such as food and energy, was 1 percent in August.
Some Strength
Data published Wednesday showed signs of unexpected strength. Industrial production rose 1 percent in August from July, more than the 0.3 percent pickup forecast by economists and boosted by the best month for transport equipment since 2011.
The pound rose against the dollar, gaining 0.5 percent to $1.5297 as of 12:42 p.m. London time. The yield on the 10-year government bond rose four basis points to 1.84 percent.
None of this is enough to overcome the challenge of raising rates while there's no inflation.
"Inflation at zero creates a presentational problem," said Alan Clarke, an economist at Scotiabank in London. "You can have all the boxes ticked, but convincing the man on the street that you're raising rates because of future expectations while inflation is at zero is a difficult battle that could make it hard for the MPC to pull the trigger."
Before it's here, it's on the Bloomberg Terminal.
LEARN MORE