Russia to Meet Ukraine for Talks This Week Over $3 Billion Bond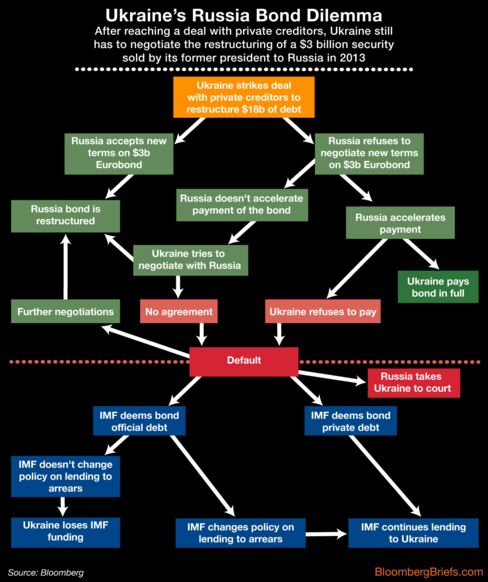 Russia has said it seeks full Eurobond payment, on time

Ukraine agreed on $18 billion debt overhaul with creditors
Russia's finance minister will meet with his Ukrainian counterpart this week to discuss debt as the two countries remain deadlocked over a $3 billion Eurobond due to the government in Moscow.
Talks with Ukrainian Finance Minister Natalie Jaresko, mediated by Germany, will be held at the Group of 20 meeting in Lima, Peru, Anton Siluanov said by phone Monday. Siluanov said discussions will include various issues, including the debt owed to Russia, bought from the regime of former Ukrainian President Viktor Yanukovych and due in December. These are planned talks not negotiations and Ukraine will lay out terms of the debt restructuring, Jaresko said at meeting with investors in London.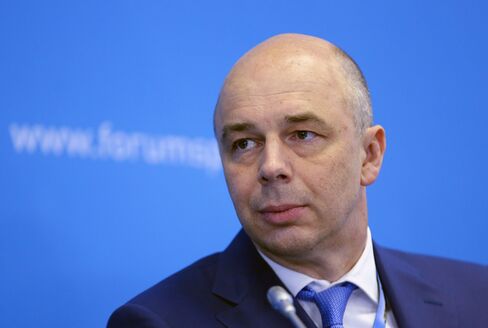 The meeting would mark the first talks between the countries' finance chiefs since Ukraine announced plans in January to restructure its international debt, including the notes owed to Russia. The authorities in Moscow, which maintain they want full repayment of the Eurobond on time, have so far rejected calls to participate in an $18 billion debt overhaul Ukraine has negotiated with a Franklin Templeton led group. Creditors, including Russia, are being asked to vote on the deal by Oct. 14.
"It's better for Ukraine to discuss the issue with Russia than to have a standstill," said Pierre-Yves Bareau, the head of the emerging-market debt at JPMorgan Chase & Co.'s asset-management unit, which oversees $43 billion in investments, including Ukrainian bonds. "Bondholders will have a preference for that debt to be restructured, but what matters more is to make sure Ukraine can put that bond behind it and start to move forward."
Ukraine's Eurobonds have rallied about 25 cents since a better-than-expected agreement with the Templeton led creditor group was announced in August, taking the country's dollar-denominated debt maturing July 2017 to 78.92 cents on the dollar as of 3 p.m. in Kiev. The country's notes handed investors a 57 percent return in the three months ending September, the best performance in the Bloomberg USD Emerging Market Sovereign Bond Index.
Equal Treatment
Ukraine has insisted that all of its bondholders, including Russia, should be treated equally in the debt restructuring and has ruled out that the $3 billion note could be paid in full.
The debt-restructuring deal includes a 20 percent principal writedown, higher average coupons and warrants tied to gross domestic product growth. The bond was sold to Russia by Yanukovych before his ouster in February 2014 and President Vladimir Putin's annexation of Crimea the following month.
"I'll be able to discuss with him the outline of this proposal and any questions he might have about it," Jaresko said about the meeting with Siluanov later this week. "There's nothing that I'm expecting from the Russian side that could turn this into a negotiation."
Ukraine risks losing a $17.5 billion International Monetary Fund aid package if it misses payment on the debt because the fund's policy dictates it can't lend to countries in arrears to sovereign creditors. The crisis lender will only decide if it thinks the bond is official debt after Ukraine has gone into arrears, according to Nikolay Gueorguiev, the IMF Mission Chief to Ukraine.
Russia Warning
Siluanov warned on Sept. 8 that Russia will seek legal action against Ukraine and will question the validity of the IMF program if the bond isn't paid back in full. The European Union and IMF should help Ukraine pay back the debt, Russian Economy Minister Alexei Ulyukayev said in an interview with state TV channel Rossiya 24 on Oct. 2.
For more, read this QuickTake: Ukraine's Other War
"If Ukraine didn't pay the $3 billion, the perception in the market would not be positive, despite the savings it would give Ukraine," said Michael Ganske, who helps oversee $4.5 billion of debt and currencies as head of emerging markets at Rogge Global Partners in London. "It would be considered as a new layer of conflict."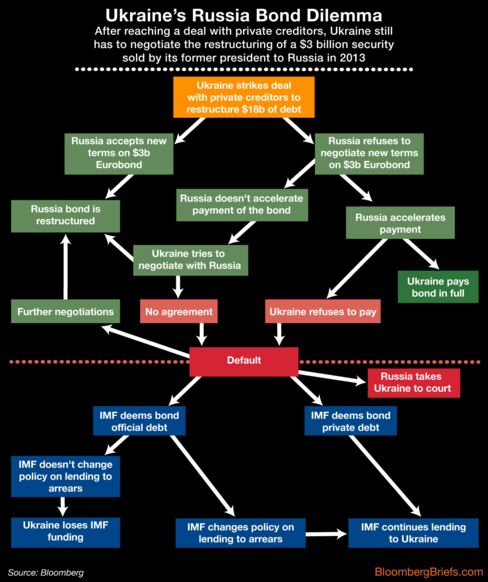 Before it's here, it's on the Bloomberg Terminal.
LEARN MORE