Nigeria's Former Oil Minister Alison-Madueke Arrested in U.K.
Nigeria is cooperating with U.K. authorities, spokesman says

Alison-Madueke served as oil minister for five years
Former Nigerian Petroleum Minister Diezani Alison-Madueke was arrested in the U.K. on suspicion of bribery and money laundering offenses, an official in the Nigerian presidency said.
"The government is aware of the arrest and is cooperating with the investigators in the U.K.," Garba Shehu, a spokesman for President Muhammadu Buhari, said Monday by phone from the capital, Abuja.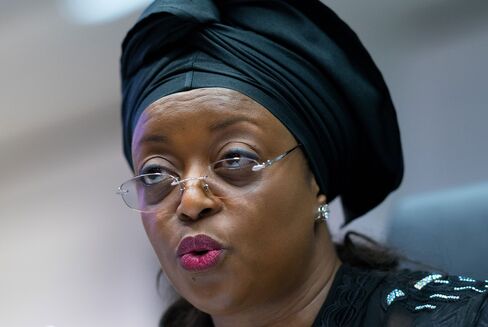 Alison-Madueke, a former president of the Organization of Petroleum Exporting Countries, served as Nigerian oil minister for five years until her party lost elections in March.
Five people were released on bail on Friday, the U.K.'s National Crime Agency said on its website, without identifying them. A spokeswoman at the agency declined on Monday to comment further. Calls to Alison-Madueke didn't go through because her mobile phone was switched off.
The U.K. agency applied to Westminster Magistrates' Court in London Monday to retain 27,000 pounds ($40,000) in cash seized from Alison-Madueke on suspicion that it may have been unlawfully obtained and intended for illegal use, court documents showed.
Before it's here, it's on the Bloomberg Terminal.
LEARN MORE