Saudi Cash Burn Drives Foreign Reserves to Lowest Since 2013
Oil rout putting Saudi public finances under pressure

Budget planners said to be considering cuts to fuel subsidies
Saudi Arabia's net foreign assets fell to the lowest level in more than two years in August and demand for loans among private businesses slowed, as the kingdom grappled with oil prices below $50 a barrel.
Falling for a seventh month in a row, net foreign assets held by the central bank dropped to $654.5 billion, the lowest since February 2013. That compares with $661 billion in July, the Saudi Arabian Monetary Agency said in its monthly report. Credit to private businesses grew 8.4 percent, the slowest rate since 2011.
The biggest Arab economy is showing signs of strain after oil prices tumbled about 50 percent over the past 12 months, pushing authorities to search for savings and sell bonds for the first time since 2007. The government, so far, has been short on specifics on how it will reduce spending, though planners are said to be considering measures long viewed as off-limits or unnecessary, including phasing out fuel subsidies and investing in renewable energy.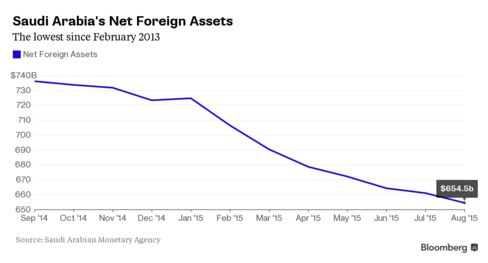 The uncertainty may slow demand for loans for the rest of the year, Dima Jardaneh, Dubai-based senior economist at investment bank EFG-Hermes, said by phone. "Until there is more clarity on issues like government spending cuts, there will be a lot of wait-and-see attitude from the private sector."
The kingdom's economic growth will likely slow to 3 percent this year from 3.6 percent in 2014, according to the median estimate of economists on Bloomberg. The budget deficit may widen to as much as 20 percent of gross domestic product, according to the International Monetary Fund.
The benchmark Tadawul All Share Index for stocks has declined 31.5 percent over the past 12 months, compared with an 18 percent drop for the MSCI Emerging Markets Index.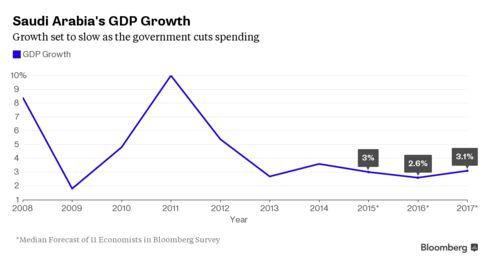 Authorities plan to raise between 90 billion riyals ($24 billion) and 100 billion riyals in bonds before the end of the year, people familiar with the matter said in August.
The kingdom has also withdrawn as much as $70 billion from global asset managers as it seeks to plug its budget deficit, according to financial services market intelligence company Insight Discovery.
"This suggests that the government is expecting to use more of its foreign reserves for financing purposes," Jardaneh of EFG-Hermes said.
Before it's here, it's on the Bloomberg Terminal.
LEARN MORE