S&P 500 Caps Longest Rally of 2015 as Oil Advances, Dollar Falls
Equities surge in Europe, emerging nations as commodities jump

Traders pare rate-hike bets to 10% for October after payrolls
U.S. stocks surged to cap their longest rally of the year, as speculation the Federal Reserve will keep interest rates lower for longer boosted riskier assets from commodities to emerging-market equities. Junk bonds climbed.
The Standard & Poor's 500 Index extended its advance to 5.6 percent over the past five days, while the Stoxx Europe 600 Index rose the most since August. Raw materials including copper and oil increased, pushing the Bloomberg Commodity Index to the highest level since Sept. 17. Bloomberg's dollar gauge dropped a third day, while an exchange-traded fund that tracks high-yield corporate bonds soared the most since August.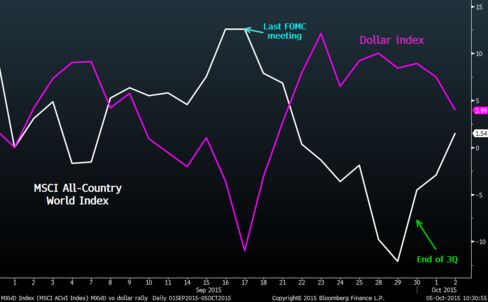 "The Fed pushing out interest-rate hike expectations to next year has been critical," Michael Purves, chief global strategist at Weeden & Co in Greenwich, Connecticut, said by phone. "Today is simply a response to oversold conditions."
The odds of Fed liftoff this month fell to 10 percent after reports in the U.S. last week showed the pace of hiring slowed in September and wage growth stalled. The data spurred speculation that policy makers will take longer to remove stimulus that has underpinned a recovery in the U.S. economy. The weaker dollar boosts earnings prospects for American companies that do business overseas and fuels demand for emerging-market assets and higher-yielding currencies.
Stocks
The S&P 500 climbed 1.8 percent to 1,987.05 by 4 p.m. in New York as it continued to rebound from its worst quarterly performance since 2011. Companies that benefit from a weaker dollar showed the biggest gains, as General Electric Co. and Caterpillar Inc. led industrials higher, while energy and materials producers jumped at least 2.5 percent.
Short sellers covering positions have contributed to the rally. A Goldman Sachs Group Inc. index of the most-shorted stocks surged 3.1 percent Monday. That brought its four-day advance to 9.4 percent after it fell to a five-year low Sept. 29.
Equities are recovering from a rout sparked by concern that slowing growth in China will spread to the Europe and America at the same time the Fed is considering tightening monetary policy. Data Monday indicated that the pace of growth in U.S. services industries cooled last month from the best readings in a decade.
The reports showed demand for services has held up in the face of financial-market turmoil and slowing overseas growth that the Fed cited last month as a reason for maintaining stimulus. Households may become more cautious with spending, though, as the latest jobs report divulged slowing payrolls growth and wages that are still stagnant.
Investors will be able to assess how companies view the global economy as third-quarter earnings season gets under way Oct. 8, when Alcoa Inc. reports after markets close. A Fed index tracking profits at U.S. companies, which tends to move in lockstep with income at S&P 500 companies, posted its biggest quarterly increase since 2012 in the second quarter.
As stocks rally, more of Wall Street's typically optimistic equity forecasters are capitulating, including one of the most bullish. Weeden & Co.'s Purves, whose year-end forecast for the S&P 500 had been the highest among 21 firms tracked by Bloomberg, lowered his outlook by 13 percent. Deutsche Bank AG and Bank of America Corp. also reined in their enthusiasm.
In Europe, a jump in commodity producers sent the Stoxx 600 up 3 percent, the most since Aug. 27. The gauge has rallied 5.6 percent since Sept. 29. Glencore Plc jumped 21 percent amid reports the commodities trader is in talks with potential buyers of its agriculture business.
Bonds
Ten-year Treasuries ended five days of gains Monday as stocks advanced. Yields climbed six basis points, or 0.06 percentage point, to 2.06 percent from the lowest level in almost six weeks reached on Oct. 2.
A measure of fear in the bond market that rose the most on a weekly basis in at least three years last week fell on Monday. The Markit CDX North American High Yield Index, a credit-default swaps benchmark tied to the debt of 100 speculative-grade companies, slipped 4.5 percent, or 22 basis points, to 474 basis points, the steepest drop in nearly a month.
Germany's government bonds led their euro-area counterparts lower as the rebound in European stocks dimmed demand for the relative safety of fixed-income securities. Yields on the 10-year German bunds increased six basis points to 0.57 percent.
Commodities
The Bloomberg Commodity Index rose 1 percent, extending its 0.9 percent advance from Friday as the weaker dollar buoyed raw-material prices. Copper for three-month delivery climbed 1.5 percent to settle at $5,177 a metric ton.
Oil rose above $46 a barrel in New York, adding 1.6 percent to settle at $46.26 after data showed a reduction in the number of rigs drilling for crude in the U.S., a sign of output cuts in the world's biggest consumer. Futures climbed 1.8 percent on Friday.
Currencies
The dollar and the yen tumbled against their higher-yielding peers. The Australian and New Zealand dollars strengthened as the gains in commodities and regional stocks helped the currencies rebound from last quarter's losses, when signs of a slowdown in China damped demand for resource-related assets.
"The way the market is looking at the payrolls numbers is weak enough to diminish the case for higher U.S. rates, but not weak enough to point to a materially weaker economy," said Adam Cole, the London-based head of global foreign-exchange strategy at Royal Bank of Canada. "They're positive for risk appetite."
Emerging Markets
The MSCI Emerging Markets Index jumped 2.1 percent, gaining for a fourth day in the longest winning streak in five months. A gauge of 20 developing-nation currencies climbed 0.7 percent to a two-week high.
The Hang Seng China Enterprises Index, the third quarter's worst-performing major gauge after the Shanghai Composite Index, added 2 percent. Chinese markets remain closed for holidays until Thursday.
Last week's U.S. jobs data saw bets on a rate increase at the Fed's Oct. 27-28 meeting slide from 18 percent a week earlier and 41.5 percent a month ago, according to trading in Fed funds futures collated by Bloomberg. It's not until the March meeting that the odds of a hike climb above 50 percent.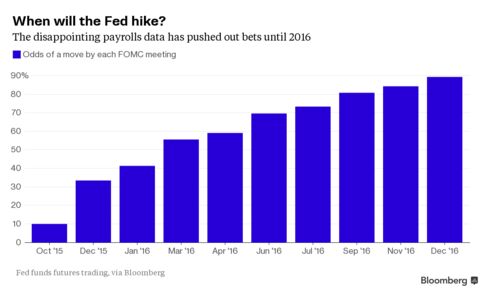 "Interest-rate hikes for the moment are off the table," said Patrick Spencer, equities vice chairman at Robert W. Baird & Co. in London. "It's October, traditionally the market tends to rally here into year-end."
Before it's here, it's on the Bloomberg Terminal.
LEARN MORE