Traders Don't See Fed Moving Until at Least March, Futures Show
March is first month with liftoff probability above 50%

Ten-year Treasury yield touches lowest level since August
The bond market is pushing back expectations for the first Federal Reserve interest-rate increase in almost a decade until March at the earliest.
Traders pared bets on a 2015 hike and subsequent increases after the U.S. reported surprisingly weak labor data for September. The probability the futures market assigns for a boost at or before the Fed's March meeting is now barely better than a coin flip, at 56 percent, down from 66 percent Thursday.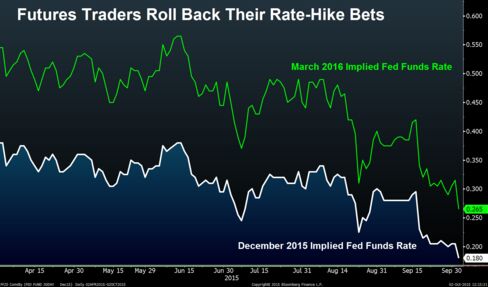 Liftoff wagers have ebbed since the central bank's decision to stand pat at its meeting last month, even as officials have sought to prepare investors for an increase. While Fed Chair Janet Yellen said last week that she was among policy makers who consider a boost would likely be appropriate this year, Friday's data undermined investors' confidence in that stance.
"The Fed has been overoptimistic for a long time on their forecasts for growth," said Gary Pollack, who manages $12 billion as head of fixed-income trading at Deutsche Bank AG's Private Wealth Management unit in New York.
Markets are also signaling expectations for a lower Fed target down the road, according to a note from Jim Vogel, an interest-rate strategist at FTN Financial Capital Markets in Memphis, Tennessee.
Last month, the Fed forecast the tightening cycle will end with the funds rate at 3.5 percent. However, Treasuries now indicate a peak of 1.75 percent for almost five years, according to Vogel.
Data Push
The U.S. added 142,000 jobs last month, following an August increase of 136,000 that was revised down from 173,000, Labor Department said. The median forecast in a Bloomberg survey of economists was for a gain of 201,000 jobs in September.
The report led to the biggest post-payroll reaction in 10-year Treasuries in at least a year, data compiled by Bloomberg show. The notes' yield fell below 2 percent for the first time since August, when global financial markets were in turmoil following China's currency devaluation. The Fed has two more policy meetings in 2015 -- the next decision on rates is set for Oct. 28, followed by an announcement Dec. 16.
Rally Day
As debt prices surged, the benchmark 10-year Treasury yield touched 1.9 percent, the lowest since Aug. 24. Treasuries pared gains as stocks recovered, pushing the 10-year yield back to 1.99 percent as of about 5 p.m. in New York, according to Bloomberg bond trader data. The price of the 2 percent security due in August 2025 rose about 3/8, or $3.75 per $1,000 face amount, to 100 1/32.
Yields on benchmark two-year Treasuries dropped about seven basis points, or 0.07 percentage point, to 0.58 percent, the steepest tumble since the Fed's rate decision on Sept. 17.
"A rate hike in the near-term is probably off the table, and now I think it would be a policy mistake," said Peter Tchir, Brean Capital LLC's head of macro credit strategy in New York.
Traders see a 33 percent likelihood that the Fed raises rates by its December meeting, down from almost 60 percent a month ago, according to futures data compiled by Bloomberg. The probability of an increase by January is 41 percent, based on the assumption that the effective fed funds rate will average 0.375 percent after liftoff.
BNP Paribas SA now sees Fed liftoff in March, compared with previous analysis that there was a 60 percent chance the first increase would come in December, the bank said in a client note. The company is one of the 22 primary dealers that trade with the Fed.
"This was unequivocally bad, which is why I think you're getting this big reaction," said Priya Misra, head of global interest-rate strategy in New York at TD Securities, another primary dealer.
Before it's here, it's on the Bloomberg Terminal.
LEARN MORE