Global Giants Listed in Hong Kong Crumble as Ties to China Backfire
Prada sinks below IPO price amid downturn in luxury spending

Glencore battered after economic slowdown sinks commodities
International companies that listed shares in Hong Kong to highlight their ties with China are finding what once was a bragging right is now a burden.
The city's 20 biggest firms domiciled outside Hong Kong and the mainland dropped an average 27 percent this year through Wednesday, versus a 12 percent decline in the Hang Seng Index. Macau casino operators and Prada SpA, an Italian handbag maker, have tumbled as China's economy slowed and the government discouraged extravagant spending. Glencore Plc, the Swiss commodities group run by Ivan Glasenberg, was down 72 percent even after a record rally on Wednesday.
Prada and Glencore both gained Hong Kong listings in 2011, when a flurry of overseas companies sold shares in the city to tap investor enthusiasm for what was then the world's fastest-growing major economy. These days, connections with China are a liability as the country heads for its weakest expansion since 1990. The Hang Seng gauge tumbled 21 percent in the third quarter, the worst performance among global benchmark indexes outside China and Peru.
"Foreign companies looking to take advantage of Hong Kong's proximity to China may need to sit tight," said Bernard Aw, a strategist at IG Asia Pte in Singapore. "Slowing growth and falling Chinese spending, especially on luxury products, will dampen the earnings prospects for companies such as Glencore and Prada."
Commodity Rout
Glencore fell 46 percent last month in Hong Kong, its worst loss on record, amid mounting concern that its debt load will become unsustainable as commodity prices tumble. The rout accelerated last quarter as waning demand from China, the largest consumer of energy and metals, collided with supply gluts in everything from oil to iron ore and nickel.
Russia's United Co. Rusal, the world's biggest aluminum producer last year, and Brazil's Vale SA, the largest iron-ore miner, are also listed in Hong Kong. They've slumped at least 40 percent in 2015.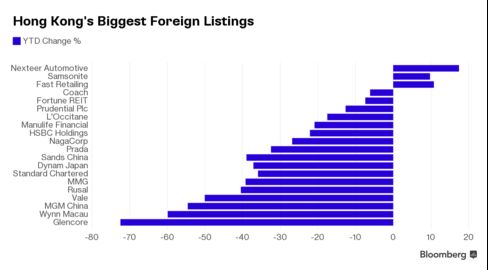 Prada's slide has dragged shares of the Milan-based firm 25 percent below the initial public offering price. Sales of high-end items including jewelry dropped in 17 of the 18 months through July in Hong Kong as a Communist Party campaign against graft and largesse put a damper on cross-border shopping sprees. The six biggest listed Macau casino operators lost half their market value this year through Wednesday, with Wynn Macau Ltd. sinking 60 percent.
"With the economy weakening and the anti-corruption clampdown in China, people aren't spending as much," said Andrew Clarke, director of trading at Mirabaud Asia Ltd., a Hong Kong brokerage. "Macau casinos and luxury-goods businesses have both been affected."
Global Impact
The Hang Seng Index jumped 3.2 percent on Friday amid optimism about Chinese government support measures for the automotive industry and the property market. Glencore added 7.1 percent, while Prada slipped 0.2 percent. Macau casino operators surged on speculation China may move to support the city's economy, with Galaxy Entertainment Group Ltd. jumping 10 percent. It's still down 50 percent this year.
It's hard for any global company to escape the impact of a Chinese slowdown. The nation accounted for 38 percent of the world's economic growth last year, up from 23 percent in 2010, according to Morgan Stanley. The $5 trillion rout in mainland equities and surprise devaluation of the yuan last quarter has roiled markets from Sydney to New York.
Yet Hong Kong has borne the brunt of the selloff, with the Hang Seng index falling twice as much as MSCI's global equity gauge in the third quarter. Only one non-Chinese firm went public in Hong Kong in 2014, the smallest annual figure in five years, according to data compiled by Bloomberg. That was Nirvana Asia Ltd., a Malaysian funeral parlor-operator.
"The choice for investors seeking a refuge is limited," said Alex Wong, a Hong Kong-based asset-management director at Ample Capital Ltd. Companies with Chinese exposure "will remain under pressure."
Before it's here, it's on the Bloomberg Terminal.
LEARN MORE