Coal Price Decline to Impact Aussie Investment, Frydenberg Says
Energy market fundamentals `positive' even with China slump

Frydenberg hopes Glencore will regain strong market position
Australia, the world's second-largest coal exporter, expects foreign investment in the industry to decline as a slump in Chinese demand continues to put pressure on prices for the fuel, Resources and Energy Minister Josh Frydenberg said.
"There's been a slowdown in international prices and particularly coming out of China," Frydenberg said on the sidelines of a Group of 20 meeting in Istanbul Friday in an interview with Bloomberg Television. "That has to have a knock-on effect to countries like Australia in terms of the investment that may be made over the coming period."
Power-station coal prices in Asia are heading for a fifth annual loss as mining companies confront a China-led slowdown in commodities demand that's hurting profits. Australia's Newcastle coal price, an Asian benchmark, has tumbled to less than $60 a metric ton since surging above $136 a ton in early 2011.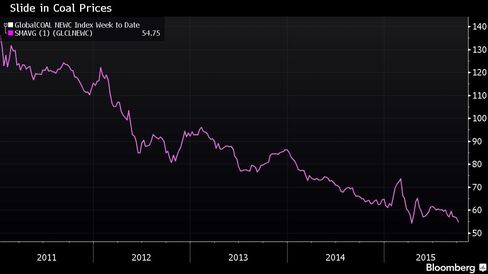 Australia, the world's 12th-largest economy, is the developed world's most China-dependent nation. With signs of an economic slowdown emerging in its biggest-trading partner and world's No. 2 economy, concern is growing that demand for Australia's vast resources of iron ore, coal, liquefied natural gas and other commodities will wane further.
"Certainly there has been a lot of volatility on the international markets and that's been a function of changes on the supply and the demand side," Frydenberg said. "But I look at the fundamentals of energy and I still think it's positive."
Frydenberg, 44, is seen as one of the rising stars of the Liberal-National coalition government and was promoted to his new role in the wake of Malcolm Turnbull's successful leadership challenge against Tony Abbott last month. The former assistant treasurer is also the minister in charge of developing northern Australia.
Prime Minister Turnbull has led the government to a change of fortunes since winning the leadership, reversing a deficit in the polls to give the coalition a lead over the opposition Labor party less than a year before the next election is due.
Frydenberg urged caution when asked about the possible future of Glencore Plc, a Swiss commodities giant that lost almost a third of its value in chaotic trading on Sept. 28. While it's since regained most of the $6 billion decline, the volatility has left traders searching for an explanation and concerned about whether it could happen again.
"Governments have to be very careful not to speculate on what may or may not be an investor's decision," he said. "Glencore has a degree of high-quality assets in Australia, being a significant player in our resources space. As far as international market stability is concerned, hopefully we'll see that stability come back and companies like Glencore return to a strong market position."
Frydenberg said he wasn't concerned about the possible negative impact on Australian government coffers from plunging commodity prices. That may put pressure on Turnbull's bid to rein in a budget deficit forecast to reach A$35.1 billion ($24.7 billion), or 2.1 percent of economic output, in the 2015-16 fiscal year.
"As far as our budget is concerned, I'm still upbeat about the impact the resources space will have on our bottom line," he said.
Before it's here, it's on the Bloomberg Terminal.
LEARN MORE