It's that time of the month again. Employers probably added 201,000 jobs last month, according to a Bloomberg survey of 96 economists. The jobless rate is forecast to remain at 5.1 percent. The probability of an October rate increase from the Federal Reserve has dropped to 18 percent from 44 percent the day before the central bank kept interest rates unchanged on Sept. 17, Fed fund futures show. Since then a number of U.S. central bank officials, including Chair Janet Yellen, have talked up the likelihood of a move this year. Global stocks have dropped almost 4 percent since last month's decision. On Friday, Asian stocks swung between gains and losses. Chinese markets remain closed until next Thursday. European stocks rose as much as 1.1 percent at the open.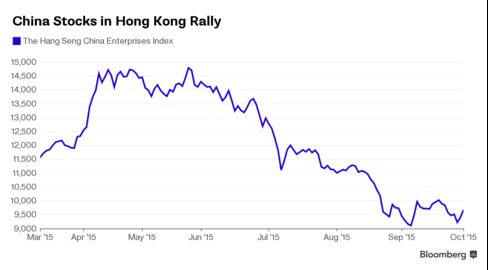 China shares listed in Hong Kong — otherwise known as H-shares — surged after the government stepped up targeted support for the economy. After a one-day holiday, the Hang Seng China Enterprises Index jumped 3 percent, the biggest rise in almost a month. The minimum home down payment for first-time buyers has been reduced, as has a tax on passenger-vehicle purchases. China is also reportedly studying supporting measures for Macau to revive the city's economy, boosting shares of casino operators. H-shares had dropped for a fifth month in September, the longest losing streak since 2000. It was worst performing global primary equity index last quarter, along with China's Shanghai Composite, both falling 28 percent.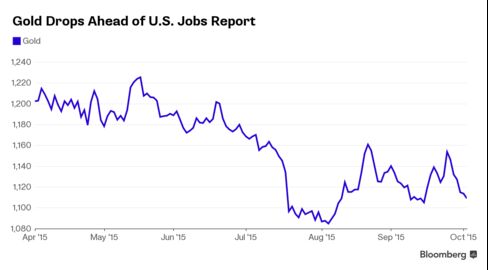 Gold is poised for its biggest weekly decline since March as investors look for clues on the timing of the next U.S. rate hike from today's jobs report. The precious metal has endured five quarters of declines, the longest slide since 1997. Bullion is losing its allure as a store of value. Higher U.S. interest rates damages its appeal because it doesn't pay interest or give returns like assets such as bonds and equities. Gold is on track for its third consecutive annual loss. That hasn't happened since 2000.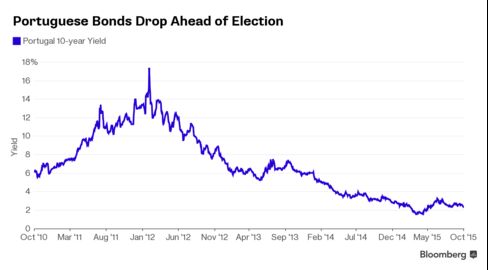 Portugal heads to the polls this weekend but don't expect much drama in the bailed-out nation. A Bloomberg poll of investors indicates calm in the bond market regardless of the outcome. That's because voters are likely to stick with Prime Minister Pedro Passos Coelho's Social Democrat and CDS party coalition that sold assets and raised taxes. The opposition Socialists are also pledging to cut the country's debt, which is forecast to exceed 120 percent of the economy next year. The nation's 10-year government bond yield hit a peak of 17.4 percent in January 2012, nine months after requesting a bailout from Europe and the International Monetary Fund. It exited the program in May 2014, with borrowing costs dropping to a record 1.56 percent in March.
Mark Barton is a presenter on Bloomberg TV. Follow him on Twitter @markbartontv
Before it's here, it's on the Bloomberg Terminal.
LEARN MORE