Analyst Known as Mad Dog Says Yen Can Rise to 100 Per Dollar
Wakabayashi predicted currency's peaks in 1995 and 2011

Japan's `quantitative easing worked only psychologically'
The yen has already passed its low and may strengthen to 100 per dollar next year as the Bank of Japan's unprecedented stimulus is failing to revive the economy, said Eishi Wakabayashi, a former trader who twice forecast the currency's surge to record highs.
"The dollar is destined to decline against the yen because it's been supported forcibly," meaning the Japanese currency's 2015 low of 125.86 was an excessive depreciation, Wakabayashi said in a Sept. 25 interview in Tokyo. "The quantitative easing worked only psychologically on asset prices, weakening the yen and lifting stocks while failing to boost inflation. That's become clear and we will see the repercussion from these shock therapies."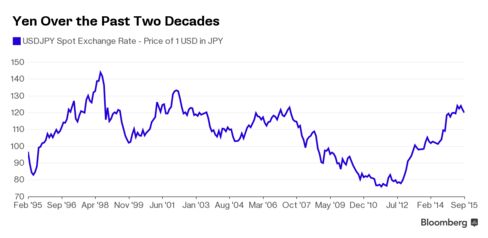 Reversals will be massive in scope, possibly driving down the Nikkei 225 Stock Average toward 10,000 from about 17,500 now and the yen will strengthen beyond 100 per dollar next year, he said.
"But the shock will be short-lived, lasting maybe up to a year. Japan has put deflation behind it because it can't sink any more than it had," said Wakabayashi, who is president of Tokyo-based Wakabayashi FX Associates Co., an investment information service firm.
Predicted Peaks
Wakabayashi, a former foreign-exchange dealer who built a reputation for long-term chart-based market analysis, predicted the yen's surge to a then all-time high in April 1995 and also foresaw the end of the strong yen era by early 2012. He joined Bank of Tokyo, now Bank of Tokyo-Mitsubishi UFJ Ltd., in 1966, and earned the nickname "mad dog" for his aggressive trading style.
The yen peaked at 75.35 per dollar in October 2011 and last traded stronger than 100 in November 2013. It was at 120.16 as of 7:19 a.m. on Thursday in London.
The world has been in a deflationary cycle since the collapse of Lehman Brothers Holdings Inc., evidenced by the euro, crude oil and a gauge of average commodities futures prices all peaking out in 2008, while risk-asset prices are merely buoyed by aggressive global monetary easing, Wakabayashi said.
As the accommodative policy has failed to end global deflation and artificially inflated risk-asset values are running out of steam, the dollar's strength is reminiscent of the yen's appreciation that hurt the Japanese economy during decades of price declines, he said.
"The U.S. will have to eventually resort to a weak dollar policy as deflation deepens," Wakabayashi said.
The Federal Reserve has held rates near zero since December 2008 to boost the economy through the worst recession since the Great Depression.
"It's obvious the U.S. is headed for deep deflation, hurt by the strong dollar," said Wakabayashi, 72. "The Fed raising rates in this environment is not only ridiculous but harmful. U.S. stocks are plunging, not because of the prospect of a Fed rate hike, but to prevent it."
Before it's here, it's on the Bloomberg Terminal.
LEARN MORE