Once-Bitten German Bond Traders Keep Yields in a Narrow Range
BlackRock says there's threat of `sharp spikes' in volatility

Selloff from record-low yield `fresh in mind' at Nordea
As China, Glencore Plc and the Federal Reserve upset everything from stocks to commodities, investors are keeping German bond yields relatively stable.
The reason lies in the first six months of this year, said Jan Von Gerich, chief strategist at Nordea Bank AB in Helsinki. The speed with which 10-year yields jumped from a record low back in April bruised investors, he said, making them reluctant to pile into the traditional haven.
Yields stayed within a tighter range in both August and September than their five-year median. Those months overlapped the worst quarter for equities since 2011, when $10 trillion was wiped off the value of global stocks. They saw China devalue the yuan in an effort to kickstart its flagging economy. And, more recently, they coincided with the rout in Swiss commodities giant Glencore as raw-materials prices languished at their lowest level in a decade and a half.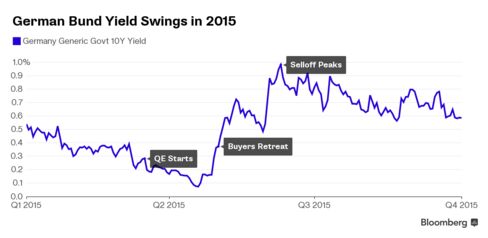 "Many still remember what happened earlier in the year, how rapidly the selloff took place," said Von Gerich. "And now there's a clear suspicion to take yields much lower with this big selloff still fresh in the mind. The big picture remains that almost all the risks are to the downside on yields."
German 10-year yields moved in a range of 29 basis points, or 0.29 percentage point, in August, and 26 in September, data compiled by Bloomberg show. Both were below the five-year median of 30 basis points.
Over that two-month period, the yield swung between a low of 0.51 percent on Aug. 24 and a high of 0.82 percent on Sept. 1. This spread compares with a more than 1 percentage-point swing between April and June.
Negative Inflation
Bund yields barely budged after a report Wednesday showed euro-zone consumer prices unexpectedly fell in September.
They did react to Friday's U.S. jobs data, though, sliding four basis points to a four-month low of 0.50 percent as of 2:45 p.m. London time as the below-forecasts report boosted demand for fixed-income assets.
Geopolitical tensions and negative inflation should be putting downward pressure on German debt yields, Von Gerich said.
In a buying frenzy that preceded and continued after the European Central Bank started its quantitative-easing program, investors pushed the German 10-year yield toward zero in April. Less than two months later, it was above 1 percent, before trending lower again as commodity prices rekindled disinflation concerns and China's meltdown spread.
Other European securities followed a similar pattern. After reaching a record-low 1.05 percent on March 12, Spain's 10-year yield surged more than 1.5 percentage points by mid-year.
"The bund selloff in the spring reminds us that, in a post-crisis world featuring lower liquidity in many fixed-income markets, the threat of sharp spikes in volatility is very real," analysts including Stephen Cohen, London-based chief investment strategist at BlackRock Inc., the world's biggest asset manager, wrote in an Oct. 1 note to clients.
Before it's here, it's on the Bloomberg Terminal.
LEARN MORE