Mild, Sunny Start to Winter Set to Curb European Energy Demand
October will be normal or warmer than usual, forecasters say

Clear skies are set to increase solar power generation
A mild, sunny start to the winter may see Europeans delay switching on their heating, further damping the lowest power and natural gas prices this decade.
Temperatures will be above normal levels in October, according to five of eight meteorologists surveyed by Bloomberg News, with another two expecting near-average levels. That will reduce demand for power and gas as the six-month winter heating season officially starts today.
With gas in the U.K., Europe's biggest market, trading at the lowest for the time of year since 2009, the forecasts are "adding to pressure on contracts for the coming weeks," according to Marcel Boonaert, head of trading at Wingas U.K. Ltd. Power contracts in France and Germany, where electricity is a more common source of domestic heating than in Britain, are near record-lows with clear skies in October set to increase solar generation.
"There is weakness piling upon weakness at the moment and forecasts for a mild October don't help," Paolo Coghe, a senior analyst at Societe Generale SA, said by phone from Paris Wednesday. "We're in a feeble system already that's lacking strength for prices and any wave that crashes makes it a bit worse."
High pressure will bring above-average temperatures to central, east and north-east areas of Europe this month, according to MeteoGroup. South Scandinavia may see temperatures as much as 2 degrees Celsius (3.6 Fahrenheit) above normal, according to Commodity Weather Group.
"Anti-cyclonic conditions" over northern Europe will lead to "a cloud-free sky and increased production of solar," according to Giacomo Masato, a research analyst and meteorologist at Marex Spectron Group Ltd. who was the only person in the survey to expect colder than normal weather in October.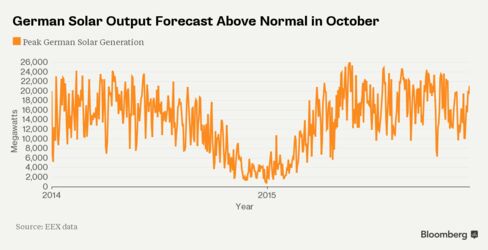 French and German month-ahead power are trading at record-lows for the time of year, according to broker data compiled by Bloomberg since 2007. Month-ahead U.K. gas is at the lowest since 2009 as storage in the European Union's 28 members climbs to near the record levels of last year, according to data from brokers and Gas Infrastructure Europe.
"We are now entering winter with enough gas in stock to cope with a very cold winter," Thierry Bros, a gas and LNG analyst at Societe Generale SA, said Tuesday in a report.
Before it's here, it's on the Bloomberg Terminal.
LEARN MORE