Half of World's Coal Output Is Unprofitable, Moody's Says
Most recent coking coal benchmark settlement at decade low

Illinois Basin stands to be most resilient amid headwinds
Half of the world's coal isn't worth digging out of the ground at current prices, according to Moody's Investors Service.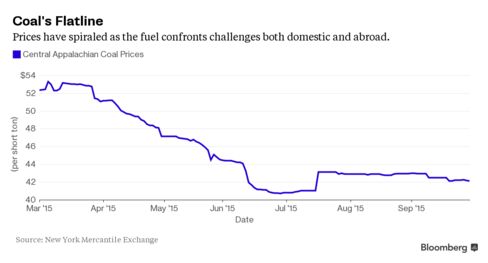 The global metallurgical coal benchmark has fallen to the lowest level in a decade, settling last month at $89 a metric ton.
"Further production cuts are necessary to bring the market back into balance," Moody's analysts including Anna Zubets-Anderson wrote in a report on Thursday.
China's slowing appetite for the power-plant fuel and steelmaking component has depressed the seaborne market, creating a worldwide glut. In the U.S., cheap natural gas is stealing coal's share of the power generation market. And the strong dollar has tempered exports.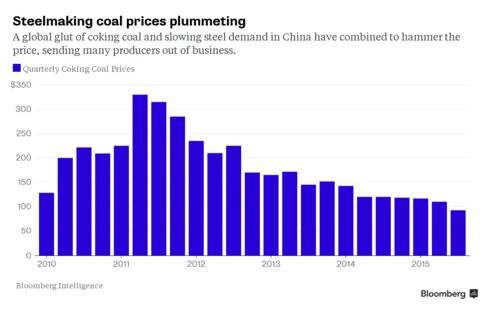 In North America, the credit rating company said it expects the industry's combined earnings before interest, taxes, depreciation and amortization to decline by 10 percent next year after a 25 percent plunge in 2015.
The Illinois Basin stands to be the "most resilient to current market dynamics" because of its lower mining costs and its location in the middle of the country where power plants still burn the fuel, Moody's said.
"We believe that Foresight Energy, a producer concentrated in the region, will be able to maintain steady production volumes over the next two to three years," Zubets-Anderson wrote.
Coal shares are suffering. Peabody Energy Corp., the largest U.S. coal producer 14 percent to $17.73 a share at the close on the New York Stock Exchange. The stock has fallen 85 percent this year.
Foresight dropped 16 cents to $5.17 a share. The company, which counts billionaire Chris Cline and Murray Energy Corp. Chief Executive Officer Bob Murray as investors, is down 69 percent in 2015.
"Over the next six to 12 months there's very little relief in sight," Brandon Blossman, an analyst at Tudor Pickering Holt & Co. in Houston, said by phone Thursday. "You have to right-size the production stack to the demand level. That's the only way out."
Before it's here, it's on the Bloomberg Terminal.
LEARN MORE