Climate Pledges Seen Holding Temperature Closer to 2-Degree Goal
Climate Action Tracker expects warming of 2.7 degrees Celsius

Previous outlook was for 3.1-degree increase by 2100
The latest pledges from countries on how they plan to rein in fossil-fuel emissions mean the world is closing in on its goal of keeping temperature increases to 2 degrees Celsius (3.6 degrees Fahrenheit), a group of researchers said.
If all nations fully implement the actions they've pledged, average temperatures will rise by 2.7 degrees Celsius by 2100 from pre-industrial times, according to an e-mailed statement from Climate Action Tracker, a joint project by four European institutions. That's lower than the 3.1 degrees they forecast last December and the first time their prediction has dipped below 3 degrees.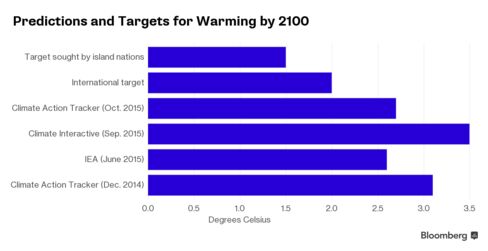 The research underlines how much progress governments have made in their promises to fight climate change. Envoys from more than 190 countries gathered by the United Nations aim to seal an agreement in Paris in December to limit fossil-fuel emissions everywhere for the first time. If temperatures exceed the 2-degree target, scientists say the effects of climate change become more intense, melting glaciers, pushing up sea levels and delivering longer droughts and more violent storms.
Island Nations
The UN's pledging process "has clearly led to progress, but it is clear that in Paris governments must consider formally acknowledging that their first round of climate plans for 2025 and 2030 will not hold warming below 2 degrees Celsius" said Bill Hare, a researcher at Climate Analytics, one of the project contributors.
Low-lying island nations and countries in Asia and Africa that are vulnerable to the impacts of climate change want an even more stringent goal of 1.5 degrees. The world has already logged about 0.8 degrees of warming.
The uncertainty in analyzing the effects of emissions reductions on rising temperatures is shown by the range of estimates for future warming. Earlier in the week, researchers at Climate Interactive predicted warming of 3.5 degrees by 2100, given current pledges, while the International Energy Agency said in June that temperatures were likely to rise by 2.6 degrees Celsius by 2100, and by 3.5 degrees Celsius a century later.
After commitments announced in the past two weeks by Indonesia, South Africa and Brazil, all major emitters have now made pledges to either reduce their greenhouse gases or limit the scale of their increase in coming years, except for India, which plans to do so on Friday. The CAT researchers said they estimated what India's contribution will be, based on policies the world's third biggest emitter has already announced, including a renewable energy target.
Countries still need to translate their pledges into concrete action in order to limit warming. When accounting only for policies that are already in place, CAT estimated warming by 2100 will amount to 3.6 degrees Celsius.
Before it's here, it's on the Bloomberg Terminal.
LEARN MORE