How Risky Is Putin's Move to Join Syrian Battlefield: Q&A
Russia is embarking on its most ambitious military campaign outside former Soviet borders in more than three decades, launching airstrikes against mainly Sunni militants at the request of embattled Syrian President Bashar al-Assad.
Russian pilots began bombing on Wednesday, the same day President Vladimir Putin passed a measure through parliament authorizing the use of force. The bold move has already pushed the U.S. and its allies to backpedal on demands for Assad's immediate ouster by shifting the balance of power in the country's 4 1/2 year civil war.
Here are some answers to questions about Russia's stated intentions, capabilities and strategy, based on conversations with analysts and officials.
What is Russia doing in Syria?
Putin says he's intervening to prevent thousands of Russians now fighting for Islamic State from returning home and "continuing their evil doings." He says the terrorist group can't be defeated without the help of Assad's military, which has lost control of about 80 percent of the country to jihadists and more moderate militias backed by countries including the U.S. and Saudi Arabia.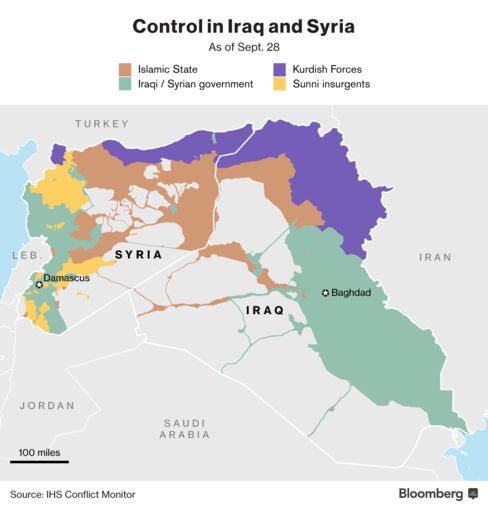 What are Putin's immediate goals?
Russia's biggest fear, shared by the U.S. and its allies, is that Islamic State fighters and other extremists will sweep south from their stronghold in Raqqa and overrun the capital Damascus, the key to achieving their stated goal of establishing a caliphate.
Putin's immediate aim is protecting the coastal province of Latakia, home to Assad's Alawite minority, and creating a corridor stretching to Damascus, according to Igor Korotchenko, an adviser to the Russian Defense Ministry.
What else is driving Putin?
Critics say Putin is seeking to expand Russia's only military toehold in the Middle East to ensure he has a say in the political transition the U.S. and its allies are demanding.
Russia has set up a center in Baghdad to share battlefield intelligence with Iraq, Iran and Syria, creating a kind of military rival to the U.S.-led coalition.
Offering to help fight Islamic State, which controls vast swathes of Syria and neighboring Iraq, may also help Russia ease out of the international isolation it's been subject to since Putin annexed Crimea and ignited a pro-Russian rebellion in Ukraine.
What are Russia's military capabilities?
Russia has deployed hundreds of troops and some of its most advanced weaponry to an air base on the Mediterranean coast near Latakia. These include more than two dozen SU-24, SU-25 and SU-30 combat aircraft, as well as tanks, attack helicopters and surface-to-air missile systems.
Russia has 1,500 soldiers deployed in Syria, according to the Vedomosti daily. The Kremlin's draft request for force authorization specified a contingent of as many as 2,000 servicemen, two people familiar with the matter said.
Russia has a "large expeditionary force on the ground at the moment in Syria and it's likely to expand," said Robert Munks, editor of IHS Jane's Intelligence Review. "It's already capable of inflicting quite a lot of damage on insurgent positions."
Where will Russia bomb?
Russian strikes will be aimed at helping Assad to defend core areas and relieve strategic besieged locations, such as bases in Deir Ezzour, Kweiris and Palmyra in the eastern, northern and central parts of the country.
Russia could also provide air support to Syrian government forces fighting non-Islamic State rebels, including in Aleppo, the second-biggest city, the northwestern Hama province and around Damascus, according to Stratfor, a U.S. geopolitical research company.
In announcing the start of combat operations on Wednesday, the Defense Ministry in Moscow said it struck eight Islamic State formations, though the U.S. and France said the targets didn't appear to be related to the terrorist group. Syria's ambassador to Russia, Riad Haddad, said the initial Russian attacks occurred in the western Homs province, as well as in the Hama region. He said Russia is also targeting Ahrar ash-Sham, the al-Nusra Front, which is affiliated with al-Qaeda, and other extremist groups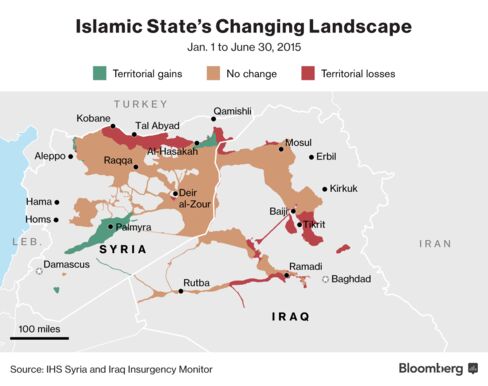 How will the U.S. and its allies respond?
U.S. Defense Secretary Ash Carter warned last week that Russia's military operation in Syria could "pour gasoline" on the conflict rather than lead to the defeat of Islamic State.
Saudi Foreign Minister Adel al-Jubeir said Tuesday that if his country was not successful in securing the ouster of Assad, its support for rebels fighting the Syrian leader would intensify. Some of the advanced weaponry Russia has deployed goes beyond what is needed to fight Islamic State, suggesting Putin's priority is to protect Assad, U.S. Air Force General Philip Breedlove, NATO's supreme commander for Europe, said Tuesday.
At the same time, U.S. Secretary of State John Kerry said Russia's involvement offered a possible "opportunity" for the U.S. to achieve its aims and Carter ordered his staff to open lines of communication with Russia's military to avoid any clashes between U.S.-led coalition planes and Russian aircraft.
What are the military risks?
Putin has so far ruled out sending ground troops, but the risk of Russia overextending is real, particularly if the opposition is able to shoot down aircraft, as happened to the Soviet Union in Afghanistan in the 1970s. Capturing a Russian pilot and posting a video of his execution online, for example, could inflame the Russian public and lead to calls for Putin to take more aggressive action.
Most of the Russian warplanes will need to fly at relatively low altitude to bomb their targets. Russian special forces will also likely be embedded in Syrian military units to act as advisers, making them vulnerable to capture as well.
Assad may use the fact that Russia will rely on intelligence from the Syrian army to draw the Russians deeper into the conflict, said Ruslan Pukhov, another Defense Ministry adviser in Moscow. "Like a snowball," he said.
Valery Anisimov, the head of a group of Soviet veterans who served in Syria, said the risk of the conflict becoming a second Afghanistan for Russia shouldn't be underestimated: "If we get sucked into it bit by bit, it will be a disgrace to get out of it without finishing it."
Do Russians support Putin's gambit?
No, at least not yet. Sixty-nine percent of Russian oppose direct military intervention in Syria, according to an opinion poll conducted by the Moscow-based Levada Center from Sept. 18 to 21. But Russians traditionally rally around their leader in times of conflict and Putin controls all the country's biggest media outlets, which champion his policies.
Before it's here, it's on the Bloomberg Terminal.
LEARN MORE