Glencore Recoups Most of Monday's 29% Plunge as Bargain Seen
Glencore adds 11% to Tuesday's record advance as metals rally

Company's `flash crash' due to momentum, not reality: SP Angel
Glencore Plc recouped most of its losses from Monday's 29 percent plunge as the shares rallied for a second day, with investors spying a bargain and metals prices rising.
The company jumped 14 percent to 91.55 pence in London, just 5.67 pence below the close last Friday before a swoon this week that some termed Glencore's own "flash crash." The excessive slump left the stock undervalued, JPMorgan Chase & Co. said Wednesday.
The mining and trading company sought to reassure investors on Tuesday, saying it had "absolutely no solvency issues" and secure access to funding. It's also seeking to raise more than $1 billion by selling future production of gold and silver to stave off criticism over its debt load, according to two people familiar with the situation.
"The market got scared," said John Meyer, a mining analyst at broker SP Angel Corporate Finance LLP in London. "It was Glencore's flash crash, based on momentum rather than reality. I think Glencore's stock will continue to climb."
While the company's collapse on Monday may bear some analogy with the trading frenzy in U.S. stocks in May 2010 that became known as the flash crash, Glencore had already lost more than two-thirds of its value this year as prices for the commodities it produces tumbled.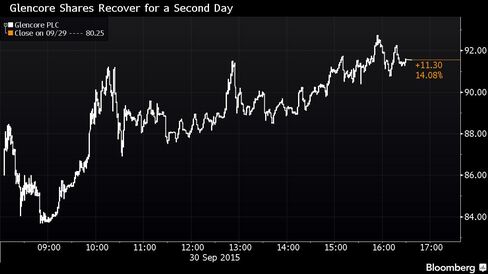 To counter the declining prices, Chief Executive Officer Ivan Glasenberg is working on a debt-cutting plan including a sale of assets, halting its dividend and a $2.5 billion share sale completed this month. Glencore hired Citigroup Inc. and Credit Suisse Group AG to sell a minority stake in its agricultural business, a person familiar with the matter said Friday.
Tony Hayward, the company's chairman, bought 100,000 shares priced at 91 pence each, according to a filing released Wednesday.
More capital may be needed to eliminate credit risks, JPMorgan said Wednesday in a report. Citigroup also wrote that management should consider taking the company private.
Investors including Legal & General Group Plc had pushed the firm to break its silence on the crash, saying the company faced a "quasi-Lehman moment," where rumors about its viability hurt the stock amid a lack of information from its leadership.
The company said in its statement Tuesday that it had good liquidity, no debt covenants, and strong credit lines. Glencore has a total debt-to-equity ratio of 104 percent, according to data compiled by Bloomberg, more than double Rio Tinto Group and BHP Billiton Ltd.
Glencore's Bonds
It's "a rather defensive statement from Glencore, but understandable considering the turmoil of the last few days," Numis Securities Ltd. said in a note on Wednesday.
Glencore's 1.25 billion euros ($1.4 billion) of 1.25 percent bonds due March 2021 rose 6.8 cents on the euro to 77 cents, according to data compiled by Bloomberg. They reached a record low of 68.9 cents on Sept. 28, the data show.
Copper climbed as much as 4.5 percent, the most in three weeks, on the London Metal Exchange. Collahuasi, the giant Chilean copper mine owned by Anglo American Plc and Glencore, said it plans to reduce production as the global metal-price meltdown deepens.
At its height in 2014, Glencore was worth more than $85 billion after its $29 billion all-share takeover of Xstrata Plc, then the world's biggest coal exporter. Now, the market value has shrunk to below $20 billion as investors fled the company, which carries more debt than its rivals to fund its trading business.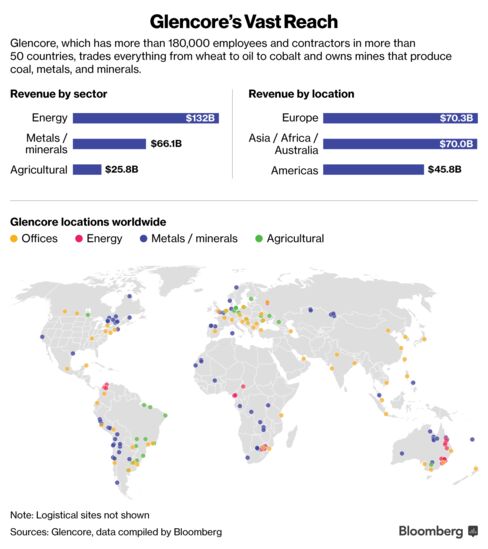 The company, based in Baar, Switzerland, trades everything from wheat to oil to cobalt. It's the biggest exporter of power-station coal, with more than 30 mines in Australia, Colombia and South Africa and is among the top three agricultural exporters in Russia, the European Union, Canada and Australia. It also controls more than 150 mining and metallurgical, oil production and agricultural assets and employs about 180,000 people.
Peter Grauer, the chairman of Bloomberg LP, the parent of Bloomberg News, is a senior independent non-executive director at Glencore.
Before it's here, it's on the Bloomberg Terminal.
LEARN MORE