Consumer Confidence in U.S. Unexpectedly Rose in September
Conference Board's gauge reaches second-highest since 2007

Share of Americans seeing jobs as plentiful increases
Consumer confidence unexpectedly rose in September as a resilient labor market helped Americans shake off the effects of tumbling stock prices.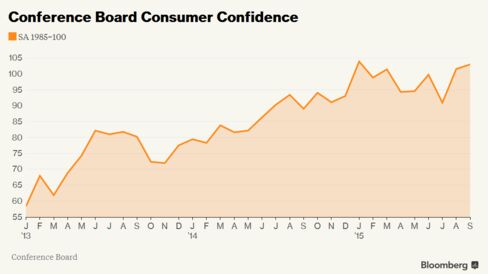 The Conference Board's index advanced to 103, the second-highest level in eight years, from a revised 101.3 in August, the New York-based private research group said Tuesday. The median forecast in a Bloomberg survey called for a decline to 96.8. The cutoff date for the survey was Sept. 17.
More Americans than at any time in eight years said employment opportunities improved in September, buoying household views of current economic conditions. Greater odds of landing a job and falling fuel prices are giving households the wherewithal to spend, keeping the U.S. economy moving forward through the market turmoil and global slowdown.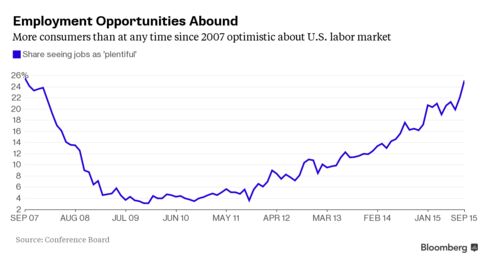 "Gasoline prices are down and unemployment rates are down," said Stan Shipley, an economist at Evercore ISI in New York. "That's a good combination for consumer confidence."
Estimates in the Bloomberg survey ranged from 90 to 102 after a previously reported July reading of 101.5. The confidence gauge reached an eight-year high of 103.8 in January.
Buying Plans
The pickup in sentiment was also reflected in buying plans, with greater shares of respondents in September indicating they will purchase homes and cars, the Conference Board's data showed.
Another report Tuesday showed the S&P/Case-Shiller index of property values rose 5 percent in the 12 months ended in July after a 4.9 percent year-over-year gain in the previous three months. Nationally, prices climbed 4.7 percent from July 2014.
The Conference Board's gauge of present conditions increased to 121.1 this month, the highest since September 2007, from 115.8 in the prior period. The share of Americans who said jobs were plentiful rose to 25.1 percent from 22.1 percent. The proportion viewing business conditions as bad dropped to the lowest since October 2007.
Income Expectations
The index of consumer expectations for the next six months eased to 91 from 91.6 in August. The share of households anticipating an increase in incomes rose to 19.1 percent from 16.2 percent.
The Conference Board's data also showed Americans' assessments of future labor-market conditions were little changed. The proportion of consumers expecting more jobs to become available in the next six months rose to 15 percent in September from 14.9 percent.
Steady job gains should help underpin sentiment. Payrolls have climbed by an average 212,000 a month this year, while the unemployment rate lingers at a more than seven-year low of 5.1 percent, Labor Department data show. The median forecast in a Bloomberg survey before the agency's September employment report on Friday calls for an increase of about 200,000 jobs.
A firming labor market may help ease concern stemming from stock-market volatility. Through yesterday, the S&P 500 was down 8.8 percent in the third quarter and almost 12 percent below its all-time high set in May.
The drop in share prices has been reflected in the University of Michigan's index of consumer sentiment, which fell in September to the lowest level since October.
Before it's here, it's on the Bloomberg Terminal.
LEARN MORE