BofA Sees Junk-Bond Train Wreck as Pain Spreads Across Market
High-yield debt index set to fall for four consecutive months

Debt loads, poor liquidity, weak economy said driving rout
Junk-bond investors reeling from a brutal month of losses had better get ready for more pain.
What started out as weakness in commodities-related debt has quickly spread to other areas of the market, with lackluster earnings, heavily indebted companies, slow global growth and "appalling bond market liquidity" signaling the end of the credit boom, Bank of America Corp. analysts led by Michael Contopoulos wrote in a report Tuesday.
"The malaise is spreading, albeit slowly," Contopoulos wrote. "We suspect that this is the start of a long, slow and painful unwind of the excesses of the last five years."
For the first time in more than 20 years, U.S. speculative-grade bonds are set to post a fourth straight month of losses, topped off by a decline of more than 2.3 percent this month alone, Bank of America Merrill Lynch Indexes show. More than half the sectors in the $1.3 trillion market have reported negative price returns for five months, a streak not seen since the 2008 financial crisis, evoking fears that "this isn't just about one bad apple," according to the BofA report. The analysts described the junk-bond market as a "slow moving train wreck that seems to be accelerating."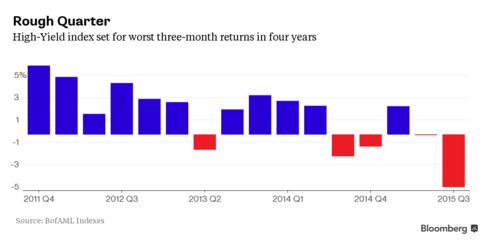 Until recently high-yield bonds had been on a roll, with $1.7 trillion issued in the past five years by companies seeking to take advantage of historically low interest rates. However, investors may not be able to move in-and-out of debt easily when the U.S. Federal Reserve eventually raises interest rates, the International Monetary Fund warned Tuesday.
"Structural changes, such as reductions in market-making, appear to have
reduced the level and resilience of market liquidity," the IMF said. As a result, there could be "a sudden deterioration in market liquidity and an increase in liquidity spillovers across asset classes."
Before it's here, it's on the Bloomberg Terminal.
LEARN MORE