Swiss Regulator Names Seven Banks in Precious Metals Probe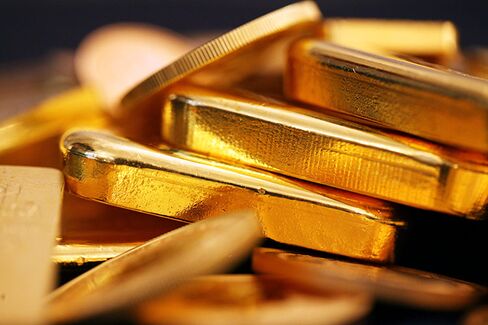 UBS, Deutsche Bank, HSBC among seven banks investigated

Banks examined for possible price-fixing in precious metals
Switzerland's competition regulator identified seven banks that are being investigated as part of a probe into whether companies in Europe, the U.S. and Japan colluded to manipulate the prices of gold, silver and other precious metals.
UBS Group AG, Deutsche Bank AG, HSBC Holdings Plc, Barclays Plc, Morgan Stanley, Julius Baer Group Ltd. and a unit of Tokyo-based trading company Mitsui & Co. Ltd. are part of the probe, which was opened in February, the Competition Commission said in a statement Monday.
European Union antitrust regulators in August disclosed they are investigating precious-metals trading, specifically anti-competitive behavior in spot trading, following a U.S. probe that embroiled some of the same banks. UBS was ordered to give up 134 million Swiss francs ($137 million) in profit by the Swiss financial regulator last November after it found "serious misconduct" by the bank's employees in foreign exchange and precious metals trading.
U.S. prosecutors have been examining whether at least 10 banks, including HSBC, Barclays, JPMorgan Chase and Deutsche Bank manipulated prices of precious metals. The scrutiny follows international probes into the rigging of financial benchmarks for rates and currencies, which have yielded billions of dollars in fines.
Conditional Leniency
UBS was granted conditional leniency in the Swiss case, according to a person familiar with the matter. This means the Zurich-based bank may escape punishment because it came clean early and cooperated with regulators. UBS said in May that it won immunity from criminal fraud charges in a U.S. Justice Department investigation into precious metals-trading misconduct.
The Swiss regulator, known as Weko, said it has "indications" the banks may have colluded to coordinate prices, namely the bid ask-spread in the precious metals including gold, silver, platinum and palladium.
The Swiss investigation could last until 2017, with a maximum penalty being a fine, Weko spokesman Olivier Schaller said by phone. He didn't specify how big a fine could be, but added that more banks may be investigated.
Spokespeople for Morgan Stanley, Barclays, HSBC and UBS declined to comment. Jan Vonder Muehll, a spokesman at Julius Baer, said the bank is cooperating with the investigation. A Deutsche Bank spokesman declined to comment. In July, the Frankfurt-based banks said it was cooperating with regulators investigating precious metals markets.
UBS shares were down 0.7 percent at 10:40 a.m. in Zurich, while Julius Baer fell 0.7 percent. Deutsche Bank was down 1.2 percent in Frankfurt. HSBC traded 1.6 percent lower in London.
For more, read this QuickTake: Broken Benchmarks
Before it's here, it's on the Bloomberg Terminal.
LEARN MORE