Hedge Funds Lansdowne, Passport Profit as Glencore Plunges
Two funds have short positions in London commodities firm

Glencore stock fell 29%, extending decline to 78% in 5 months
Glencore Plc's plunge on Monday has been good for two investors. Hedge funds Lansdowne Partners and Passport Capital had bet shares of the miner and commodity trader would fall.
London-based Lansdowne has the largest short position on Glencore, whose shares slid 29 percent Monday, followed by Passport, data compiled by Bloomberg show.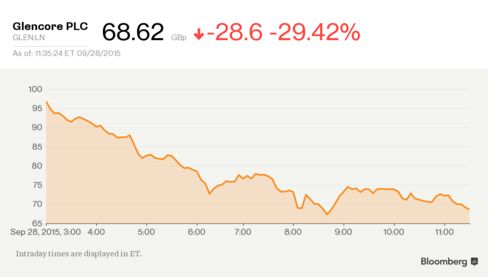 Glencore extended a rout that has wiped about 78 percent of its value since April amid investor concerns that the company isn't cutting debt sufficiently quickly. The slowest pace in China's economic expansion since 1990 is hurting demand for commodities. Hedge funds short shares by borrowing stock and selling it on the market with the aim of buying shares back at a lower price and pocketing the difference.
Lansdowne has 117.7 million Glencore shares on loan, or about 0.8 percent of the total stock outstanding, and last increased that position on Aug. 27, the data show. Founded in 1998, Lansdowne is one of Europe's largest hedge funds with $18.5 billion under management. Its flagship Developed Markets Fund rose 10.2 percent in the first seven months of the year.
Passport Capital increased its short position on Glencore on Sept. 2 to 106 million shares. Founded in 2000 by John Burbank, Passport manages $4.1 billion.
Spokesmen for Lansdowne and Passport declined to comment.
Before it's here, it's on the Bloomberg Terminal.
LEARN MORE