Spanish Bonds Rise as Catalonian Voters Reject Independence Bid
Artur Mas claims mandate with 48% support for Junts pel Si

German bunds also advance before inflation data this week
Spain's government bonds jumped, ending a three-day decline, after pro-independence parties received less than 50 percent of the vote in Catalonia's local elections, reducing for now the prospect of a clash with the central government.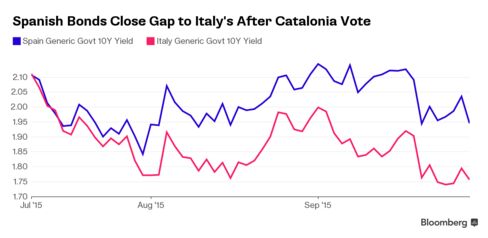 The nation's 10-year debt outperformed Germany's bunds, Europe's benchmark sovereign securities, for the first time in six days. The election result left Catalan President Artur Mas, who favors breaking away from Spain, needing a deal with an anti-capitalist party which rejects the rule of law if he wants to govern. Sovereign securities across the euro region were supported before data this week which, economists predict, will show inflation slowed to zero this month.
"The market is focusing on the fact that the popular vote wasn't more than 50 percent," said Piet Lammens, head of research at KBC Bank NV in Brussels. "But I'm not convinced that the market will stay so sanguine. Sentiment in Catalonia is gradually moving toward independence. There will be ongoing uncertainty."
Spain's 10-year bond yield fell 11 basis points, or 0.11 percentage point, to 1.93 percent as of 4:40 p.m. London time, after climbing eight basis points over the previous three days. The 2.15 percent security due October 2025 rose 0.99, or 9.9 euros per 1,000-euro ($1,116) face amount, to 102.02.
The yield on Germany's 10-year bund dropped six basis points to 0.59 percent. That left Spain's securities yielding 134 basis points more than their north-European peers, down from 139 at the end of last week.
Stagnating Prices
Bonds from Austria to Portugal also rallied before Wednesday's inflation report.
The European Union's statistics office will say consumer prices stagnated in September from a year earlier, according to a Bloomberg survey of economists. That's likely to reinforce investor perceptions that the ECB will consider expanding its stimulus program to help bring the rate up to its inflation goal of just under 2 percent.
Spanish bonds had underperformed their euro-zone peers in the run-up to the vote in the nation's second-most populous region, which Mas said was effectively a referendum on independence. Afterward, he said the 48 percent support he received was enough to give the separatist cause a "a strong mandate."
Spain's 10-year securities yielded 18 basis points more than similar-maturity Italian debt, down from 24 basis points on Friday. As recently as July 16, Spain's yield was lower than Italy's.
"Spain clearly has been paying the price for this political uncertainty,"
Antonio Garcia Pascual, chief economist for Europe at Barclays Plc in London,
said in an interview on Bloomberg Television's "The Pulse" with Francine
Lacqua. Spanish bonds have been "trading in a spread wider than Italy,
fundamentally because of political risk."
Before it's here, it's on the Bloomberg Terminal.
LEARN MORE