Fed Chair Janet Yellen has spoken: the U.S. central bank is on track to raise interest rates this year.
The dollar rose for the fifth day in six with the Bloomberg Dollar Spot Index on track for its biggest weekly gain in two months. Asian stocks swung between gains and losses, as did emerging market equities. Gold dropped after its biggest increase since January and highest close for a month.
Yellen's speech in Amherst, Massachusetts came a week after the Fed kept interest rates unchanged, adding to a volatile market backdrop caused by China's economic and financial woes. The probability of a rate hike in 2015 has risen to 49 percent from 43 percent on Wednesday, according to Fed fund futures.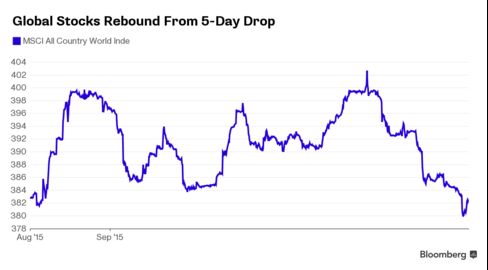 The takeaway is that investors now have clarity after a muddled message from the Fed last week. And Yellen assured investors that when the the cost of borrowing increases, the moves will be gradual. After a five-day, 4 percent drop the MSCI All Country World Index rose, helped by the biggest gain in European stocks in a month. Global stocks are still heading for the first weekly drop in three.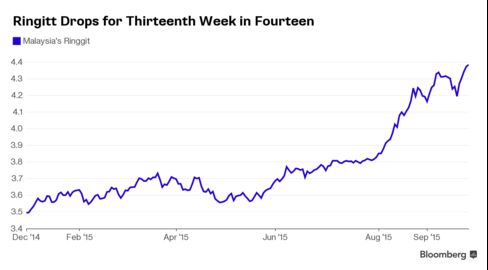 Malaysia's ringgit is being battered from all sides. The currency is on track for its biggest weekly slump since 1998 and dropped through 4.38 against the dollar for the first time since the Asian financial crisis. The region's worst-performing currency over the last 12 months is being hurt by China's economic slowdown, a domestic political scandal encircling Prime Minister Najib Razak, slumping oil prices and the prospect of higher U.S. interest rates.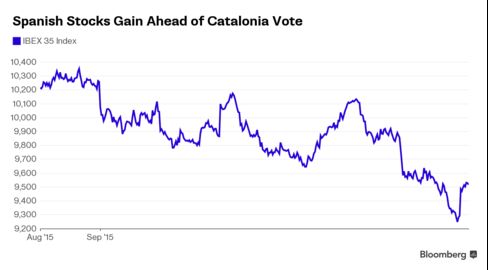 Spanish stocks rose on Friday yet Catalonia's election has been hovering over the IBEX 35 Index like a dark cloud. The gauge is the worst performing European benchmark this month and only three global primary indexes have fared worse. Investors are worried a separatist victory in Sunday's vote will lead to Catalonia breaking away, robbing Spain of a fifth of its economic output. Spain is the eurozone's breakaway success story this year, with the nation forecast to grow more than 2.2 percent each year through 2017. Other concerns hovering over the IBEX 35 Index are its links to emerging markets, which are slowing. Companies like Banco Santander and Telefonica rely on Latin America for nearly half of their revenue.
Mark Barton is a presenter on Bloomberg TV. Follow him on Twitter @markbartontv
Before it's here, it's on the Bloomberg Terminal.
LEARN MORE