Flash-Crash Trader Faces Fight to Stop Extradition to the U.S.
Navinder Sarao to appear in a London court Friday for hearing

Sarao's lawyers to argue his behavior isn't illegal in U.K.
Navinder Singh Sarao is used to fighting other traders on the derivatives markets. The 36-year-old faces a much tougher battle Friday when his lawyers try to convince a London judge he shouldn't be extradited to the U.S. to face criminal charges.
A one-day hearing will determine whether the U.S. has grounds to force Sarao to leave the U.K. to face a 22-count indictment for fraud and market manipulation. Whatever the outcome at London's Westminster Magistrates' Court, an appeal is certain, according to lawyers.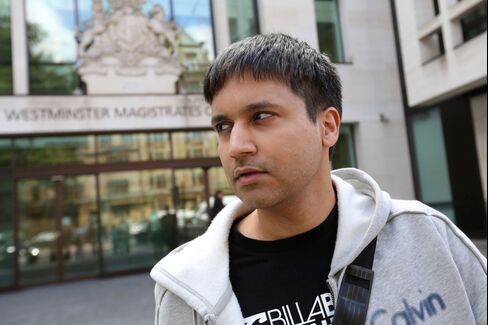 Sarao was arrested in April at his house in London's Hounslow district and spent the next four months in prison as his lawyers tried to negotiate his bail. Prosecutors allege he made $40 million over four years by spoofing CME Group Inc.'s stock futures market. They say he made a $900,000 profit on May 6, 2010, when a trading frenzy known as the flash crash saw almost $1 trillion briefly wiped from the value of U.S. equities. U.S. authorities allege Sarao contributed to the mayhem.
"The great majority of extradition requests made by the U.S. to the U.K. are successful," said John Hardy, a London-based trial lawyer who specializes in extradition cases. "Common systems, common law, common language."
Prison sentences in the U.S. are often far longer than in the U.K. Sarao's charges could add up to a 380-year sentence if convicted. While these kinds of sentences are rarely imposed, any jail time he served would still be away from his home country.
Sarao's lawyers will seek to undermine U.S. claims by arguing that his actions weren't a crime in the U.K. and, as a British citizen, any trial should take place here. A lawyer for Sarao declined to comment.
Sarao is only the second person to be charged by the U.S. for allegedly using layering and spoofing techniques on financial markets. High frequency trader Michael Coscia was accused in a 2014 federal indictment in Chicago of spoofing energy markets. Coscia was also fined $903,000 by the U.K. Financial Conduct Authority for deliberate manipulation of commodities markets.
Before it's here, it's on the Bloomberg Terminal.
LEARN MORE