Banks Discuss Shifts to How London Gold Traded for 300 Years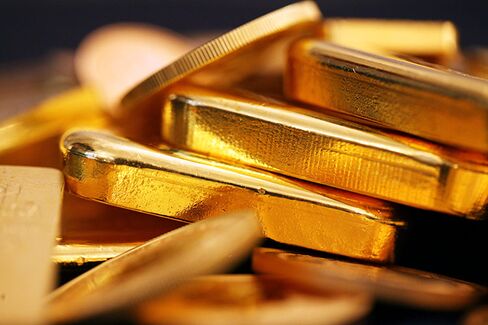 Goldman, Morgan Stanley, ICBC among group of five lenders

Banks discussing central clearing and listed derivatives
For more than three centuries, gold has traded in London on a virtual handshake. Now, five banks are thinking about changing that.
While bullion trading happens with a set contract on an exchange in most places, London is the exception because the market functions entirely over-the-counter with banks making custom deals on price, delivery times and size. Now, a group of lenders, including Goldman Sachs Group Inc. and Morgan Stanley, are assessing whether it makes sense to introduce standardized central clearing and listed derivatives, according to a letter obtained by Bloomberg to the London Bullion Market Association.
These discussions are happening at a time when commodities trading is under scrutiny by regulators worldwide and lawmakers have pressed for tighter bank controls. Gold trading in London currently relies on banks and other companies to manage the risk of default or nonpayment, while trading in New York, Singapore and Shanghai is backed by the exchange.
Pressing Change
"You have the regulators pressing for change, the market is pressing for change, something is going to give," Adrien Biondi, the global head of precious metals at Commerzbank AG in Luxembourg, said by phone. "They've been talking about this since the 1990s, but this time I think they may actually do something."
The World Gold Council said it talked to 18 lenders and other market participants in the past year on how to improve the city's bullion market.
The other firms are Societe Generale SA, ICBC Standard Bank Plc and Citigroup Inc. The letter was sent on behalf of the lenders and the council to the LBMA and London Platinum & Palladium Market Association, which together oversee the city's precious metals trading.
The LBMA confirmed the letter and declined to comment further. The WGC said its representatives regularly hold discussions about modernizing the market.
Societe Generale and Citigroup declined to comment. Morgan Stanley, ICBC Standard Bank and Goldman Sachs didn't respond to emails.
The London Metal Exchange is ready to work with the industry on a clearinghouse for bullion, according to a statement. The bourse is already authorized by the Bank of England to clear gold and silver forwards. LME Chief Executive Officer Garry Jones said earlier this month that the exchange is considering expanding into gold and silver contracts.
Exchange Products
"They have two alternatives, either get the LME, CME or ICE to do it, or attempt to get the banks to do it themselves," said David Govett, head of precious metals at broker Marex Spectron Group in London. "That five banks out of 18 asked have signed this letter shows we are a long, long way from any agreements."
A spokesman for CME Group Inc. declined to comment and Intercontinental Exchange Inc. didn't reply to a phone message.
London has taken some steps to modernize its gold market. In March, ICE began running an electronic auction for the daily price fixing, replacing a system done by phone between a few banks.
"Any steps to improve the London market can only be of benefit," Bernard Sin, the head of currency and metal trading at MKS (Switzerland) SA, a Geneva-based refiner, said by phone. "From a trader's perspective, this is a good development."
Before it's here, it's on the Bloomberg Terminal.
LEARN MORE