What Volkswagen's Crisis Could Mean for Auto Asset-Backed Securities
Bonds backed by VW inventories and loans are in the securitization spotlight.
From the Environmental Protection Agency to … securitized bonds?
The emissions scandal currently rocking Volkswagen is having ripple effects across markets, potentially moving all the way to sliced-and-diced bonds tied to car loans and leases.
Sales of auto asset-backed securities, or ABS, have been booming in recent years as investors seek out higher-yielding products. According to Deutsche Bank estimates, about $5.6 billion worth of VW auto ABS is outstanding, with some $4.39 billion of that figure coming from bonds backed by loans and leases.
Volkswagen, now facing potential fines and litigation, could find its ability to attract new business temporarily crimped, forcing down the values of the cars backing such loans. But that will probably have little impact on ABS investors, according to Elen Callahan, Deutsche Bank analyst.
"Given that the vehicles are still 'safe and legal to drive' and that the repairs will come at no cost to the owner, we do not expect borrowers to become disincentivized from making their contractual monthly payment on their VW vehicle," she wrote in a note published on Wednesday.
Still the $1.25 billion worth of bonds that Deutsche bank estimates are backed by car dealer inventories of VW cars—known as dealer floorplan ABS—could be a more complicated story.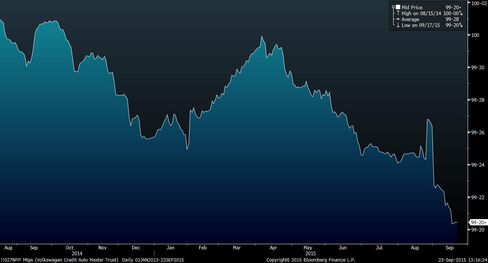 "As is typical for dealer floorplan ABS, the ABS trust benefits from VW financing assistance including but not limited to VW's pledge to repurchase unsold new vehicles and inventory," Callahan said. "We believe that despite the financial burdens associated with the recalls, VW will continue to honor this commitment given the importance of its dealer network to its primary business."
The revelations made public last week by the U.S. Environmental Protection Agency have reminded some auto bond analysts of recalls that hit Toyota Motor in 2009 and 2010, which affected some 9 million vehicles.
Car dealers, told to immediately halt sales of popular 2015 and 2016 models, including Volkswagen's Jetta and Beetle convertible, "are now saddled with unsalable product, at least for the time being,'' Barclays analyst Brian Ford told clients in a Tuesday report.
"Dealers now have a number of cars that they cannot sell; so inventory will not turn over as rapidly," he said in a follow-up interview. "The ABS most affected by VW's sales stoppage of certain 2015 and 2016 diesel models is the dealer floorplan securitizaiton."
For Dave Goodson, head of securitized products at Voya Investment Management, automaker recalls are a known risk to bond investors. "When you buy into these kinds of deals, you are buying into risk,'' he said. "You have to accept that if you want to invest in these bonds.''
Before it's here, it's on the Bloomberg Terminal.
LEARN MORE