VW Woes Infect Broader Auto Credit as BP Serves as Guide: Analysis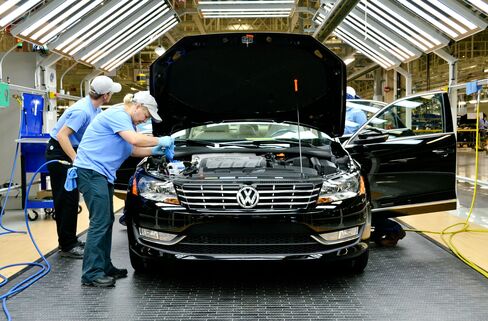 The tumult surrounding Volkswagen AG and its deceptive emissions testing is pushing its bond valuations wider and is also infecting the broader auto sector. But the market and credit spread reaction seen so far may have much further to run if the market fallout from the BP Deepwater Horizon disaster serves as a guide, Bloomberg strategist Simon Ballard writes.
As the crisis at the German automaker widens, and the outcome of the situation remains uncertain, investors are erring on the side of caution with little sign yet of any buying interest at cheaper levels.
The broader auto sector is suffering contagion from concerns emissions fraud may be more widespread in the industry, although VW bond spreads have taken the brunt of risk aversion and spread widening. The impact of the affair has also stretched across the border with France as French Finance Minister Michel Sapin suggested that French cars should also undergo similar emissions test checks.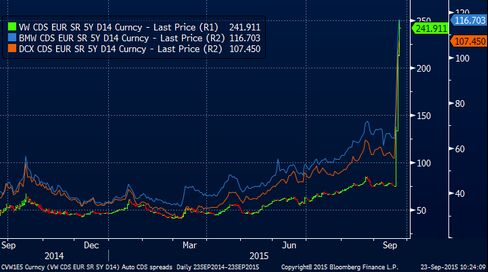 The credit market reaction has been significant. VW credit default swaps have widened by some 130 basis points since the beginning of this week. VW 5-year CDS on Tuesday were trading at 195/210 (+65 on the day). BMW was quoted 105/115 (+34) and Daimler was seen in the context of 100/110 (+35).
In cash bonds, meanwhile, the VW 3.5 percent 12/49 hybrid bond has dropped over 10 points since Friday. BMW and Daimler do not have hybrid debt. It is notable that the already weak market backdrop due to global growth and U.S. rates concerns is doing little to offer any support to market sentiment. Current market conditions mean that investors may prefer to sell first and ask questions later. Analysis of whether other auto manufacturers used similar emission testing techniques may be key to longer-term auto sector spread performance.
So where might risk markets head from here? Investors are looking at the price/spread history of BP in the wake of its Deepwater Horizon oil spill in 2010 in an attempt to estimate the full potential financial impact of the alleged emissions fraud at VW. BP's 5-year CDS spiked to 600 from 37 in mid-2010, in the wake Deepwater Horizon disaster. However, the suggested deliberate nature of the VW emissions fraud may be viewed by investors as more than negligence and as such it is feared that the potential U.S. and global penalties could be larger than those applied to BP. BP reached a $18.7 billion settlement in July 2015 and took an additional $10.8 billion charge. VW has thus far set aside $7.2billion (€6.5 billion)
NOTE: Simon Ballard is a strategist who writes for Bloomberg. The observations he makes are his own.
Before it's here, it's on the Bloomberg Terminal.
LEARN MORE