VW Seeks to Fill Power Vacuum by Friday With CEO Appointment
Porsche chief and former BMW executive seen as candidates

Winterkorn's departure was "only a first step," lawmaker says
As Volkswagen AG seeks to replace discredited Chief Executive Officer Martin Winterkorn, the leading candidates range from a decades-long veteran of VW to a pair of newcomers who have been with the company less than a year.
Winterkorn resigned Wednesday after revelations that the company cheated on diesel emission tests and may face criminal charges in the affair. The automaker's supervisory board said it will discuss his replacement at its meeting on Friday.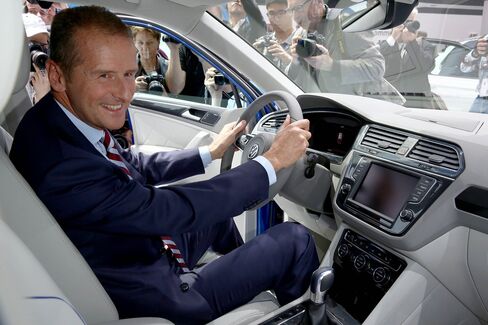 Possible successors include Porsche unit chief Matthias Mueller, who is backed by members of the family that controls a majority stake in Volkswagen, and Herbert Diess, a former BMW AG executive who took over the newly created post of VW brand chief this year, a person familiar with the matter said.
The new CEO will take charge as VW seeks to regain the trust of consumers and rebuild a brand tarnished by scandal. The company's admission that millions of its "clean diesel" cars have software intended to defeat emissions tests wiped nearly 20 billion euros ($22.4 billion) off its market capitalization earlier this week. The shares gained on Thursday.
Winterkorn's departure "was necessary for the company, for the workers, for the region, for Germany's car industry, but it's only a first step," said Guenter Lach, a Christian Democrat lawmaker who worked at VW for four decades and represents voters from the automaker's home base of Wolfsburg. "Volkswagen has been shaken to the core. The company now stands at the beginning of a long, painful series of corrective actions."
VW shares clawed back some of its losses from earlier this week, gaining as much as 7.9 percent to 120.30 euros on Thursday and was up 5.7 percent as of 11:52 a.m. in Frankfurt trading.
The scandal at VW is putting diesel emissions across the industry under scrutiny. BMW AG dropped as much as 9.7 percent after Autobild reported that a diesel version of the X3 SUV had emissions that were more than 11 times the European limit in a real-world road test. BMW responded that "all emissions systems remain active outside the testing cycles."
Mueller, 62, has led Porsche since 2010 and could be put into place as an interim CEO to stabilize Volkswagen until a longer-term candidate can be groomed, said Arndt Ellinghorst, an analyst at Evercore ISI in London. Mueller started at Audi as a toolmaking apprentice in the early 1970s, and his focus in recent years has been away from the VW and Audi brands named in the diesel affair. Ellinghorst said that if Mueller were chosen, he might quickly be succeeded by Diess, 56, or Volkswagen trucks chief Andreas Renschler, 57.
"They need fresh people, a new system," Ellinghorst said. "They need to become more flexible, and the leadership culture needs to change."
Diess spent 18 years at BMW, including stints running purchasing and model development. He left the luxury-car maker at the end of 2014 after production chief Harald Krueger was named to succeed Norbert Reithofer as CEO. Renschler worked at Daimler AG for 25 years and started at Volkswagen in February.
Another potential candidate may be Winfried Vahland, the 58-year-old head of Skoda, the Czech brand owned by Volkswagen, said Sascha Gommel, an analyst with Commerzbank AG in Frankfurt.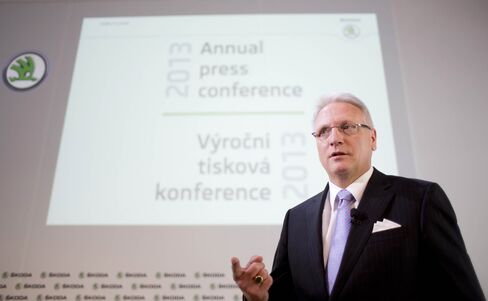 "The only thing is that Skoda is a brand that also used those engines, so it's not clear if it's credible that he didn't know about this," Gommel said. Whoever it is, the choice "should be done and dusted by Friday because in this situation they need strong leadership who can face regulators globally."
A completely new face is unlikely given the voting power held by just a few shareholders. The Porsche and Piech families control 51 percent of the carmaker through their holding company Porsche Automobil Holding SE, while the state of Lower Saxony, where Volkswagen is based, owns another 20 percent. Neither has shown much interest in hiring an outsider. And labor leaders with a vested interest in a CEO who will protect jobs, as Winterkorn did, hold half the seats on the supervisory board.
"It's true that Professor Winterkorn is a technology enthusiast and kept track of a lot of details," Stefan Weil, the Lower Saxony premier who sits on VW's board, said on ARD television. "Still, as a big corporation, there were areas that weren't transparent and these incidents show that. There also was a conscious effort not to say everything."
Volkswagen set aside 6.5 billion euros on Tuesday in an initial tally of the potential cost of its deception of regulators and customers about emissions of diesel engines installed in 11 million cars worldwide -- more vehicles than it sells in a year.
"Volkswagen looks like a Gulliver, pinned to the ground, unable to move," saidFerdinand Dudenhoeffer, director of the Center for Automotive Research at the University of Duisburg-Essen. "The strings need to be removed."
Before it's here, it's on the Bloomberg Terminal.
LEARN MORE