Volkswagen Emissions Scandal Takes Toll on Corporate Bond Market
Debt selloff echoes travails of BP after Gulf oil spill

Credit-default swaps surge among other auto manufacturers
Volkswagen AG's escalating scandal over emissions-test cheating is beginning to ripple across the $10 trillion global corporate bond market.
Investors in the U.S. were demanding yields of as much as 4.6 percent to own the German automaker's dollar-denominated debt on Tuesday. That's more in line with companies with ratings closest to junk than the A grade that Volkswagen has from Standard & Poor's. Credit-default swaps traders drove up the cost to protect against losses on debt across the auto industry as they braced for the potential of a widening probe.
The rapid selloff in the debt of such a large and creditworthy borrower was starting to remind some investors of the market fallout when BP Plc faced cleanup costs from the 2010 oil spill in the Gulf of Mexico. Volkswagen faces questions from its supervisory board over how much its leaders knew about a scheme intended to dupe regulators and consumers about emissions of diesel engines installed in 11 million cars worldwide, a person familiar with the matter said.
"You don't know the extent of the financial hit to VW," said Jennifer Vail, head of fixed-income research in Portland, Oregon, at U.S. Bank Wealth Management, which oversees $127 billion. "Remember what happened to BP as well," she said. Some investors "can't afford even an interim price loss," she said. "You'll see them exit the position."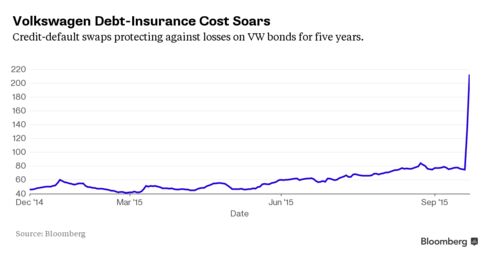 The auto-maker faces civil penalties of as much as $19.9 billion for government allegations covering the 482,000 diesel cars it sold in the U.S., CreditSights Inc. analyst Brian Studioso wrote in a report Sept. 20. What could cost the company even more, he said, are unknowns such as reputational damage that could crimp demand and weigh on bond ratings as well as the prospect that Volkswagen will face lawsuits.
Jeannine Ginivan, a spokeswoman for Volkswagen, said she could not comment on the impact of penalties on bondholders or securities trading.
Volkswagen's $42.7 billion worth of bonds in the Bank of America Merrill Lynch Global Corporate index lost 2.2 percent on Monday. The extra cost investors demanded to own all of the debt in that index climbed an average of 2 basis points to 157 basis points, matching a more than two-year high.
The automaker's $750 million of U.S. dollar-denominated bonds due in 2020 saw their yield jump to 4.64 percent from 2.39 percent last week as their price tumbled more than 10 cents on the dollar.
Even though the company's bonds are now cheaper, the rise in yields is still not enough to compensate for the increased risk of holding them, according to Mark Holman, chief executive officer at TwentyFour Asset Management in London. The yield on Volkswagen's securities has risen about 150 basis points, Holman wrote in a note Wednesday.
"They are definitely cheap enough to consider now but we feel the risks are still just too high for fixed income investors at this stage," he wrote. "The company, just like BP, will get through this, but this is not the time to take that risk."
Cheaper Bonds
VW's travails have further spooked investors after stock losses in China and the Federal Reserve's decision to keep interest rates at a record low last week stoked concern the global economy is slowing.
"The news of the admission is a big blow to a market that was relatively weak already because of concerns around China, and the 'non-lift-off' from the Fed," Geraud Charpin, a portfolio manager at BlueBay Asset Management in London, said. This "adds another reason for investors to say I just can't invest risk into that market and would rather be on the sidelines," Charpin said.
The cost of insuring debt issued by the company rose to 223 basis points, a more than six-year high, according to data compiled by Bloomberg. The impact of the scandal reverberated through the auto industry, with swaps on Porsche Automobil Holding SE, Bayerische Motoren Werke AG and Mercedes-Benz parent Daimler AG also reaching multiyear highs, the data show. Contracts insuring the debt of parts-maker Valeo SA jumped 7 percent and those of Continental AG also rose.
Fitch Ratings also said Volkswagen's A credit rating, the sixth-highest investment grade, may come under pressure if the crisis deepens.
"You've got some severe damage that they've done to their reputation beyond just the cost to fix the problem and the fines that they might face here and in other countries," said Joe Mayo, who heads credit research at Conning & Co., a global insurance investment manager that oversees about $92 billion of assets. He said he's concerned by the "lack of visibility" revealed by the scandal, and that it raises questions about practices of others in the industry.
Before it's here, it's on the Bloomberg Terminal.
LEARN MORE