Traders Spooked by El Nino Grind Winter Gas to a 16-Year Low
El Nino has traders expecting a warmer winter in the U.S.

Warm Pacific waters are disrupting global weather patterns
Lingering summer heat and a weather phenomenon that's raising expectations of a mild winter have put natural gas bears in control of the market for the first time heading into the peak heating season.
Gas prices are tumbling as signs of El Nino mount and temperatures in Manhattan top 80 degrees Fahrenheit (27 Celsius) in late September. Gas for January delivery, when prices typically peak with winter heating demand, is heading into winter at a 16-year low.
"Gas traders are really big on El Nino," Jason Schenker, president of Prestige Economics LLC in Austin, Texas, said in a telephone interview Tuesday. "From a psychological standpoint, when it's 80 degrees in the middle of September it's pretty tough to believe it's going to be a significantly cold winter."
Forecasts show above-normal temperatures sweeping the lower 48 states through the first week of October, according to MDA Weather Services in Gaithersburg, Maryland. The outlook for mild weather means there won't be much need for power from gas-burning plants to run air conditioners or heat homes.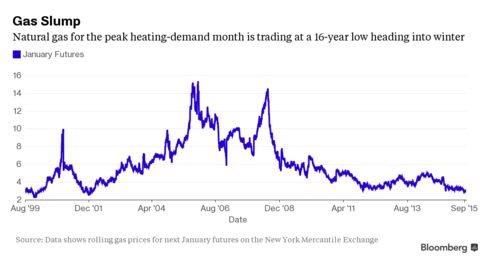 A strong El Nino is "still the dominant forecast driver" for December through February, Matt Rogers, president of Commodity Weather Group LLC in Bethesda, Maryland, said in a report Monday. November through March will be 9 percent warmer across the lower 48 states than last winter based on heating degree days, a proxy for weather-driven energy demand and population, he said
Gas for January delivery fell 0.1 percent Tuesday to $2.905 per million British thermal units on the New York Mercantile Exchange, a record low close for the 2016 contract. The futures were little changed Wednesday, up 0.1 cent at $2.906 at 1:56 p.m. Prices are hovering at the lowest level for this time of the year for any January contract since 1999.
Strong El Nino
The price slump has sapped trading. Aggregate open interest for New York futures fell to 904,000 contracts on Sept. 15, the least since Oct. 31, 2014.
The high temperature in New York City on Sept. 29 may be 79 degrees, 9 above normal, while Dallas may be 3 above average that day at 88, according to AccuWeather Inc.'s website. Chicago will be 1 higher at 71.
One of the strongest El Ninos since the record-breaking event of 1997-98 is underway in the equatorial Pacific. The phenomenon occurs when the surface of the ocean warms above normal and the atmosphere begins to react, changing weather patterns around the world.
In the U.S., El Ninos often push the storm track lower across the country, bringing more rain and snow from Southern California to the U.S. South. In 2010, the last time an El Nino occurred, record snow fell in Dallas. El Ninos can also bring milder winters to parts of the northern U.S., depressing heating demand.
Now, as traders from Texas to the Northeast bask in mild weather, it doesn't matter that El Nino could bring a deep freeze to some areas, Schenker said.
"Sentiment matters," Schenker said. "We are going to need a little bit of frost on the ground before you get a little bit of a slingshot higher."
Watch Next: El Niño Is Coming Back: Here's What You Need to Know
Before it's here, it's on the Bloomberg Terminal.
LEARN MORE