Surge in U.S. Stock Buybacks Gains Support From Idle Factories
Capacity utilization below 80% threshold for spending growth

Schwab's Sonders: Repurchases `are not the market's bogeyman'
Companies in the U.S. have yet to encounter the kind of capacity constraints that would indicate a surge in stock repurchases is misplaced, according to Liz Ann Sonders, Charles Schwab & Co.'s chief investment strategist.
The chart below is similar to one Sonders presented in a blog posting two days ago to support her conclusion. She compared the amount of U.S. factory, utility and mining capacity in use with the year-to-year change in investment in buildings, equipment and other assets. Data for this version was compiled by the Federal Reserve and the Commerce Department, respectively.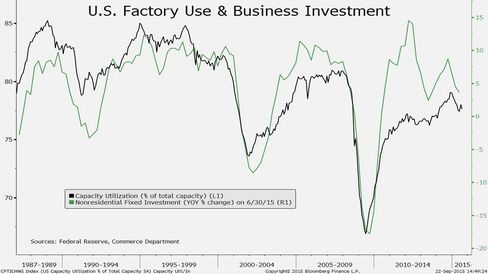 Capital spending tends to increase as capacity utilization reaches 80 percent or higher, Sonders wrote. That level hasn't been achieved since the current economic expansion started six years ago. The rate dropped in eight of the past nine months after peaking at 79 percent in November.
"Companies with excess cash should arguably not invest in new equipment/machinery/structures until they are ready to fully utilize their existing stock," the New York-based strategist wrote. "We are not quite there yet in this expansion."
Returning cash to shareholders is often the best use of the money, Sonders wrote. U.S. companies authorized $599 billion in buybacks in the first eight months of this year, according to data from Birinyi Associates Inc. that she cited. The total increased 40 percent form the same period of last year and exceeded a peak of $585 billion in January-August 2007.
"Stock buybacks are not the market's bogeyman," the posting said. "When done right, they can reward shareholders and share prices, and reallocate capital to where it's most productive."
Before it's here, it's on the Bloomberg Terminal.
LEARN MORE