China's Bloated State-Owned Companies Are Hurting Its Growth
Hope is for reforms that ``significantly boost productivity''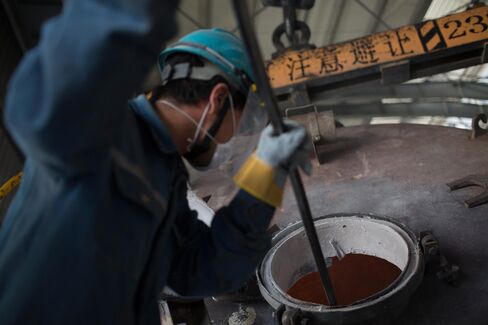 Remember the good old days of plus 8 percent growth in China?
New research from Bloomberg Intelligence shows it could have been a reality in the first half of this year had the nation's bloated and inefficient state-owned enterprises kept pace with private firms. With SOE assets at 109 trillion yuan ($17 trillion), the scope for improved efficiency of the sector to drive stronger growth is "immense," Bloomberg economist Fielding Chen wrote in a note this week.
That's where the latest round of SOE reform comes in. The government aims to categorize them into commercial and public interest organizations, strengthen management and take a hands off approach to managing its interests. It will sell shares of some and consolidate others, reform unproductive "zombie enterprises" and encourage a "blending" between state-owned capital and private investments.
``The hope from the government is that a strict classification of SOEs into strategic, commercial and public interest will pave the way for reforms to significantly boost productivity,'' Chen wrote. He estimated that if SOEs had expanded at the same pace as private firms in the first half, industrial production growth would have been 8.5 percent year on year rather than 6.3 percent, taking GDP growth to 8.2 percent from 7 percent.
These charts from Bloomberg Intelligence illustrate the drag from SOEs: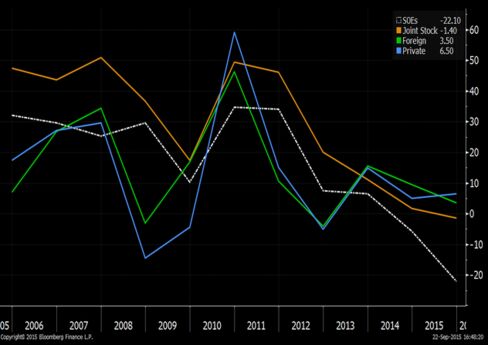 This chart breaks down the underperformance by industry: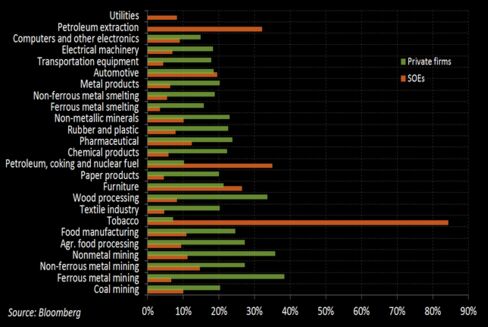 While there is skepticism over prospects for real reform given the array of vested interests at stake in any root-and-branch SOE shake up, there is also plenty of room for catch up if today's generation of leaders can replicate the success of former Premier Zhu Rongji's reforms 15 years ago.
Before it's here, it's on the Bloomberg Terminal.
LEARN MORE