Platinum in Pain as Volkswagen Uproar May Hurt Diesel Demand
Analysts say VW deceit risks damaging confidence in diesel

Platinum, trading at 6-year low, is used to cut car pollution
Volkswagen AG's emissions scandal may be another blow for platinum prices trading at a six-year low.
The German carmaker's attempts to rig U.S. pollution tests risks hurting the attractiveness of diesel engines in curbing emissions, according to analysts at Mitsubishi Corp. and Deutsche Bank AG. That would be bad for platinum because 44 percent of the metal's demand comes from devices that curb harmful gases from cars, particularly diesel types.
There'll be a "substantial" drop in platinum usage if consumers buy fewer diesel cars, something that may turn buyers toward gasoline cars which use more palladium, ABN Amro Bank NV said. Platinum prices have slumped 28 percent in the past year as slower economic growth cuts demand and supply increases after South African mine strikes last year.
"There's already been substantial negative sentiment toward platinum," Philip Newman, a director at London-based consultancy Metals Focus Ltd., said by phone. "There have been concerns with the outlook for the diesel car market and that is now being exacerbated by what has happened at Volkswagen."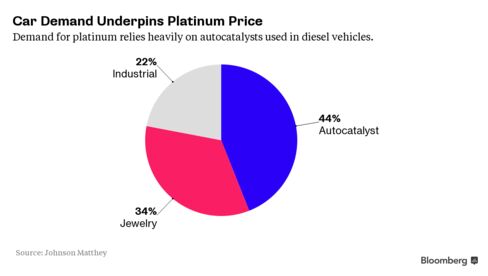 VW said as many as 11 million cars globally are affected by software that faked pollution control. The average diesel car contains 4 to 6 grams of platinum, A-1 Specialized Services & Supplies Inc. estimates. Using that much in 11 million cars would total about 1.8 million ounces. Global platinum demand will be 8.31 million ounces in 2015, according to Johnson Matthey Plc.
Mitsubishi, Deutsche Bank and ABN Amro analysts said it's too early to say by how much platinum demand or prices may fall.
"I'm not sure that this is negative for platinum, if anything, they may have to replace some converters, which may lead to an increase in demand," said Patrick Magilligan, the head of market research at A-1, a recycler of platinum-group metals based in Croydon, Pennsylvania. "I just don't see it being that big a deal over the longer term."
Still, the slump in platinum accelerated this week. Prices dropped 4.7 percent in the two days through Tuesday, the most in two years and more than any other metal. It traded at $945.08 an ounce on Thursday in London.
The negative diesel publicity may spur buyers to favor gasoline vehicles, which would benefit palladium because the metal is mostly used in those engine types, ABN Amro's Georgette Boele wrote in a report. The metal advanced as much as 6.8 percent on Wednesday to a two-month high.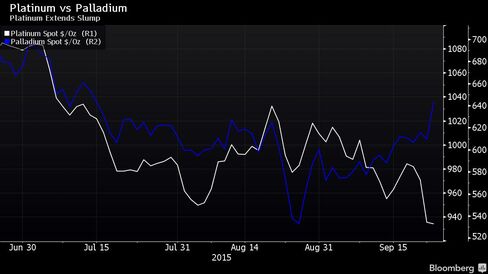 Platinum's drop has pushed its price ratio to palladium near the lowest in 13 years. An ounce of platinum now costs about 1.46 ounces of palladium, down from 1.84 ounces a month ago, data compiled by Bloomberg show.
European governments have condemned VW's actions and the company faces a criminal probe in Germany.
"It's certainly bad for the public relations of diesel," said David Jollie,
a former designer of auto catalysts, now head of research at Mitsui & Co. Precious Metals Inc. in London. "In the longer term, this may damage the popularity of the diesel engine and that contributes to the negative debate that already surrounds platinum."
Before it's here, it's on the Bloomberg Terminal.
LEARN MORE