Here's What Wall Street Thinks of Hillary Clinton's Plan to Crack Down on Pharmaceutical Companies
Biotechs, beware.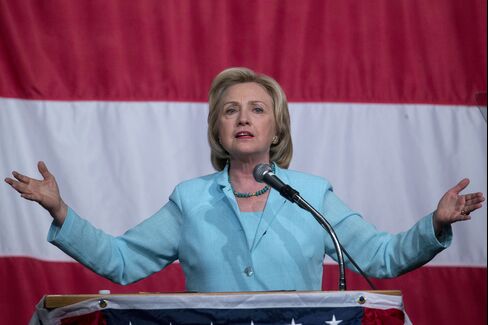 In July 2014, the world's most powerful woman sounded the alarm on biotech valuations.
In testimony before Congress, Federal Reserve Chair Janet Yellen warned that there were some signs of froth in this segment. Her comments sparked a short-lived selloff in the sector.
But the woman who has her sights set on claiming that title in 2016 -- Democratic front-runner Hillary Clinton -- who has sparked her own form of pressure on the high-flying group in recent days.
On Monday, in the wake of news that Turing Pharmaceuticals AG, which is led by a former hedge fund manager Martin Shkreli, had jacked up the price of one of its drugs 50-fold after acquiring the product in August, Clinton tweeted that this constituted "outrageous" price gouging. The Nasdaq Biotechnology Index promptly hit the skids thereafter.
https://twitter.com/HillaryClinton/status/645974772275408896
The next day, Clinton released a series of proposals which would attempt to limit the rising cost of pharmaceuticals. Her suggested measures included empowering Medicare to directly negotiate drug prices, requiring pharmaceutical companies to engage in a certain level of research and development, and placing a cap on out-of-pocket costs for prescription drugs.
Wall Street pharmaceutical analysts offered their thoughts on Clinton's proposed measures in a number of research notes. Here's a round-up.
Bank of America Merrill Lynch's Ying Huang and Catherine Hu:
Watch out, serial acquirers:
We believe it will be difficult to further increase the level of R&D investments by biotech companies. The seven large caps spent about $1.7B or about 28% of revenues on average in 2014 and the biopharmaceutical industry as a whole spent about $51.6B in 2013 (according to PhRMA). We believe this criticism may be directed towards companies that have gained valuation more through pure M&A than drug development.
Cap on out-of-pocket expenses counterproductive:
The proposal would place a requirement on health insurance plans to cap an individual's monthly cost at $250. Many biopharma companies already provide co-pay assistance to help reduce out-of-pocket costs for patients. In our view, capping out-of-pocket costs will likely hurt consumers in the long run as insurers pass costs onto consumers in the form of higher premiums.
Cowen's Charles Rhyee, James Auh, and Zachary Wachter:
It's not all bad for parts of the industry:
We see any changes that expedite the availability of generics as positive for pharmacy benefit managers and distributors, such as lowering the exclusivity period to seven years from 12 years, prohibiting pay for delay agreements and expediting the review of biosimilar applications for biologics.
But some bits just aren't feasible:
The other proposal to use Medicare to bargain directly with manufacturers would have an impact on drug prices, if it were only possible. However, when Medicare Part D was created with the Medicare Modernization Act, it was explicitly written that Medicare could not use its scale to negotiate drug prices directly. To change that, you would need an act of Congress and with an Republican-controlled Congress we see that as very unlikely.
UBS' Marc Goodman, Matthew Roden, and Ami Fadia
Stale, and a tough sale:
Most of the proposals in Hillary Clinton's plan have been around for almost 10 yrs and would need to be enacted into law by Congress. And importantly, many of these proposals have failed to move forward in the past because of inadequate support from the Republicans and/or pro-pharma Democrats.
This is all posturing, but even that can hurt:
The election campaign macro overall is about anti-establishment, and you can't get more anti-establishment than beating up on the pharma sector. The bad news is that while nothing will probably become of these proposals, the focus on drug pricing will remain a focus for the election season, and this is likely to be an overhang for the industry.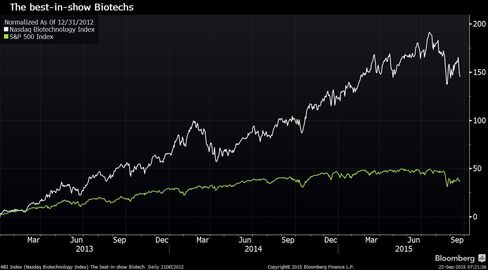 Biotech stocks have long been a favorite of momentum traders, with the Nasdaq sector index lapping the S&P 500 since the start of 2013. However, over the past two sessions, the group has given back a hefty 6 percent.
Before it's here, it's on the Bloomberg Terminal.
LEARN MORE