Wall Street's Biggest Dollar Boosters Are Throwing In the Towel
Strategists cut forecasts as Fed sticks with zero-rate policy

`We're in a very different world now,' Morgan Stanley says
Six months after the dollar's ascent faded, Wall Street is giving in.
For a second straight quarter, the greenback is set to trail strategists' projections. Morgan Stanley, Bank of America Corp. and Citigroup Inc. are among banks that have lowered their dollar forecasts against the euro during the past two weeks. The median year-end estimate for Intercontinental Exchange Inc.'s U.S. Dollar Index, which tracks the currency against six major peers, has been cut to the lowest since March.
The Federal Reserve's decision last week to delay any interest-rate increase undermined the bullish-dollar scenario. That came after waves of global turbulence in financial markets following China's surprise currency devaluation last month, which dimmed the world's growth outlook and put an abrupt end to the dollar's nine-month advance.
"There's a bit of a capitulation since last week," said Steven Englander, global head of Group of 10 currency strategy at Citigroup in New York. "There's more discussion today on trying to figure out what's happening and why, than trying to figure out what's the best currency to buy or sell."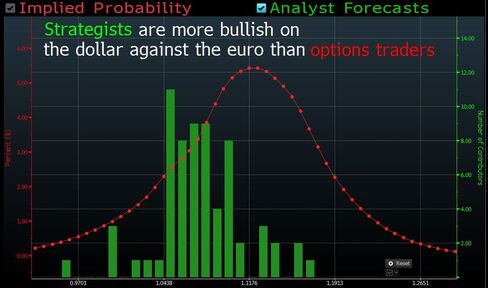 Strategists in a Bloomberg survey forecast the dollar to gain 3.1 percent against the euro in the three months through Sept. 30. Instead, the world's most-traded pair is little changed since June, following a 3.7 percent decline in the second quarter. The U.S. Dollar Index has gained 0.9 percent this quarter, compared with estimates for a 2.5 percent advance.
The greenback fell 0.3 percent to $1.1156 per euro as of 11:21 a.m. in New York. The U.S. Dollar Index was little changed at 96.371.
Citigroup and Morgan Stanley cut their year-end forecasts for the dollar to $1.13 per euro, from $1.07 and $1.05 respectively. Bank of America weakened its forecast by 5 percent to $1.05, saying there's a risk of the dollar dropping to at least $1.15 if the Fed doesn't raise rates this year.
Parity Dwindles
In another sign that the bullish consensus is fading, only four banks are calling for the dollar to rally to parity with the euro by year-end, compared with 14 at the start of the quarter, according to analyst estimates compiled by Bloomberg.
For much of last year until March, the diverging paths of the U.S. and the rest of the world prompted strategists to call for a multi-year dollar appreciation cycle, until it became increasingly clear that even the biggest economy couldn't escape the ripple effects of the slowdown around it.
Investors are re-examining their outlook after Fed officials kept their target interest rate near zero and didn't clearly point to an increase at upcoming meetings. Fed Chair Janet Yellen cited a range of concerns outside of the U.S. -- from slowing growth in China to global market volatility -- to explain the decision to hold the rate at historic lows.
"We're in a very different world now," said Hans Redeker, Morgan Stanley's London-based head of global currency strategy. "There are days when you can tactically say euro-dollar has upside potential and there are days when you say tactically it has downside potential. That has a lot to do with the market becoming a risk-hostile environment."
Before it's here, it's on the Bloomberg Terminal.
LEARN MORE