Rice Is Commodity Winner as Weather Cuts Crop in Southern U.S.
While domestic output is seen falling, export demand is up 42%

Global inventories fall, Thai crop estimated at 19-year low
If you're a commodity investor, rice should be a staple in your diet.
While adverse summer weather conditions in the U.S. have failed to give much of a boost to either corn or soybean prices, one crop is surging: rice. Rough rice traded in Chicago is up 22 percent in the third quarter, the best performer among commodities futures tracked by Bloomberg.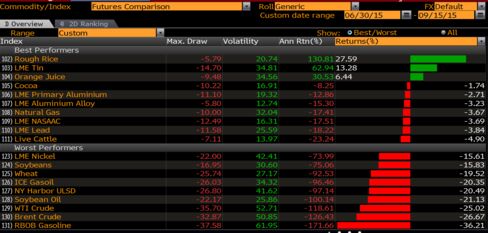 Domestic output is estimated to fall 14 percent in the crop year that began Aug. 1 to 18.95 billion pounds, the U.S. Department of Agriculture said Sept. 11. The harvest in Arkansas, the largest growing state, is showing "dismal" yields, according to a USDA report last week. Texas had a record wet month in May and other southern growing states saw above-average temperatures in July.
"With the reduced supply, the market is rallying back to where farmers can sell," Dennis Delaughter, market analyst at VantageRM in Austin, Texas, said in a telephone interview.
Rough-rice futures for November delivery closed 0.5 percent lower at $12.75 per hundredweight Tuesday on the Chicago Board of Trade. (A hundredweight is equal to 100 pounds, or 45 kilograms.) Still, futures touched $13.08 on Sept. 14, the highest in more than a year.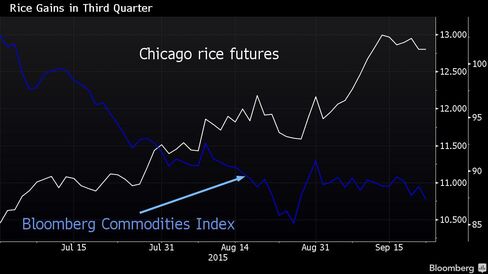 While the U.S. isn't particularly big in terms of output -- China produces about 20 times as much -- it's forecast to be the fifth-largest shipper in the 2015-16 season, according to a USDA report. Total U.S. rice export commitments for the current crop year are up 42 percent higher than the pace a year earlier, USDA data show.
Outside the U.S., the supply situation has worsened. Global inventories will fall for a third straight year, the USDA estimates. Production in Thailand, the largest exporter, may fall to the lowest in 19 years because of dry weather. Other Asian nations are monitoring the potential impact of the strongest El Nino in two decades.
For all that, the price rally has yet to go global. The world market remains fragmented, with many large countries controlling consumer prices. The benchmark Asian price is at a seven-year low, according to data from the Thai Rice Exporters Association.
Before it's here, it's on the Bloomberg Terminal.
LEARN MORE