Rajoy Says Mas Is Lying to Catalans About Cost of Independence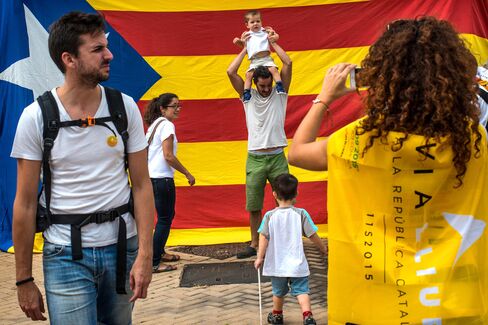 Separatists creating `total disinformation' on secession

Catalans heading to polls Sunday in vote about leaving Spain
Catalonia's regional leader Artur Mas is lying to Catalans about the cost of abandoning Spain, Prime Minister Mariano Rajoy said.
The Catalan government is spreading "total disinformation" about the consequences of breaking away from Spain for Catalonia's finances, its public pensions and its place in the European Union and the single currency, Rajoy said in an interview with Onda Cero radio station on Tuesday.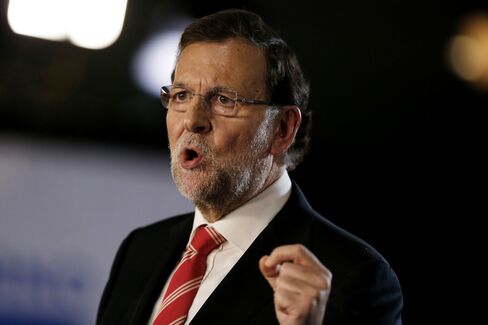 "Catalans aren't being told the real consequences of independence," Rajoy said, adding that the pro-independence platform has failed to present a plan for governing. "There is no program in this election, Mas has no program, his track record has been criticized by his own partners."
Catalans head to the polls Sunday in a regional vote in which Mas is trying to win a majority in favor of breaking away from Spain. Polls suggest that pro-independence parties may win more than half the seats in the regional assembly while falling short of a majority of votes.
Euro Exit Risk
The rhetoric between the two sides has escalated in recent days with the Spanish government, the Bank of Spain, business leaders and European officials all warning that secession would see Catalonia excluded from the euro, shutting its banks off from European Central Bank funding with potentially dire consequences for the region's economy.
Mas and his pro-independence allies argue that the European Union will take a pragmatic approach once it becomes clear that the Catalans are pushing ahead with secession and insist they will be allowed to keep the euro. Mas accused Spanish officials of scaremongering.
Rajoy said it is irrelevant whether the separatist parties win a majority in seats or votes because the entire process is illegal under the Spanish constitution. Instead, the prime minister urged voters opposed to independence to turn out and vote.
"The best thing that could happen is that we enter a phase of tranquility, normality and common sense, putting an end to this era of uncertainty," he said.
Before it's here, it's on the Bloomberg Terminal.
LEARN MORE