Nokia's Alcatel Approvals Ahead of Plan as Suri Meets Macron
CEO reiterates promises to minister on French jobs, innovation

Progress with integration planning is "remarkable," Suri says
Nokia Oyj Chief Executive Officer Rajeev Suri said government approvals for the $17.6-billion takeover of Alcatel-Lucent SA are progressing faster than expected, with key nods from China and France remaining.
A meeting Tuesday evening with France's Economy Minister Emmanuel Macron aimed to tackle the issue, with Suri seeking to show he can navigate between French jobs, the investments he's pledged and the savings he's promised investors. The progress with approvals and integration planning, months before the deal is set to close next year, is "remarkable," Suri said in an interview in Paris.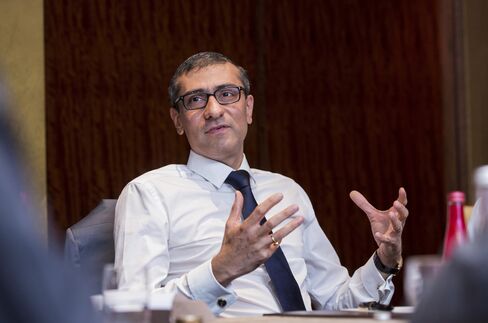 "I'm not worried about the French government, that's well on track," Suri said before heading to the Finance Ministry's offices. "We have so much to learn but it's not rocket science. Listen, observe, be here, be present."
Nokia shares rose about 3 percent 6 euros at noon in Helsinki. In an industry that's seen its fair share of failed mergers, the 47-year-old India native plans to pull off combining companies with distinct cultures and products, ensuring that Alcatel-Lucent's more than 50,000 employees are smoothly converted into Nokians. While it's too early to detail job cuts or site closures, Suri said he knows he'll have some "heavy lifting" to bring together the companies' overlapping wireless-network assets.
He plans to unveil, starting next month, how the integrated company will be structured, who will run its units and which key products will help Nokia grow faster. A failure to win over French officials, workers and unions would likely water down the cost cuts and revenue gains the company is seeking. Suri said he met with the top 200 Alcatel-Lucent managers a week ago to sooth concerns Nokia was too focused on process and costs rather than innovation.
Turnaround Expertise

Suri has experience with successful takeovers and turnarounds. The executive saved Nokia's networks unit from the brink of bankruptcy after a troubled combination with a Siemens AG business, and the division now boasts better profitability than bigger rival Ericsson AB. To do that, he said he's had to reorganize operations in some 90 countries, and deal with regulators and unions there.
"I like turnarounds, big change projects," Suri said.
After Suri and Macron met -- for the second time since the takeover was unveiled in April -- Nokia reiterated its promises on keeping jobs and France's key role on innovation. The company said it plans to keep the government informed of the integration process also after completion.
Suri described Macron as business-minded, focused and pragmatic, echoing how Suri is characterized by many who've worked with him. "He's methodical, clinical, he's very organized," Macron said of Suri in an interview earlier this month.
Nokia's still waiting for a final green light in China after it agreed in August to combine its Chinese business with Alcatel-Lucent Shanghai Bell once the acquisition is completed. Nokia will have the controlling stake in the joint venture that will be called Nokia Shanghai Bell.
Lessons Learned
Suri said the Alcatel-Lucent integration may be easier than the turnaround at his last job, mainly because the companies have less overlap and he's got a strong balance sheet.
Suri said he's also learned several lessons from past revamps. One is keeping a smaller team of core decision-makers while calling others to weigh in on specific topics, as well as leaving the businesses that perform well alone, he said.
He's leaning on several lieutenants in working with Alcatel-Lucent and the French government to make the acquisition go as smoothly as possible. Those include Marc Rouanne, a former Alcatel executive and current Nokia head of mobile broadband; Philippe Keryer, Alcatel's innovation head; Basil Alwan, leader of Alcatel's IP routing business; and Barry French, Nokia's marketing and corporate affairs chief.
"You don't want everybody working on the integration instead of running the company," Suri said. "You have to minimize disruption in a tough environment -- just make decisions and go back to business."
Before it's here, it's on the Bloomberg Terminal.
LEARN MORE