Growth Outweighs Currency Risks as Nigeria, Kenya Hold Rates
Nigeria economy may fall into recession in 2016, Emefiele says

Kenya tightened monetary policy this year to boost currency
The threat of recession in Nigeria, Africa's biggest economy, and weaker growth in Kenya prompted policy makers in the two countries to keep interest rates unchanged despite pressure on their currencies to weaken.
The Central Bank of Nigeria kept its policy rate at a record 13 percent on Tuesday, while the Central Bank of Kenya left its benchmark rate at 11.5 percent, matching the forecasts of most of the economists surveyed by Bloomberg.
Nigeria and Kenya are among African nations that have tightened monetary policy since last year to bolster their currencies, bucking a global trend of lower interest rates. A plunge in commodity prices and weaker global demand, particularly from China, are putting the brakes on Africa's growth boom, giving policy makers on the continent reason to pause.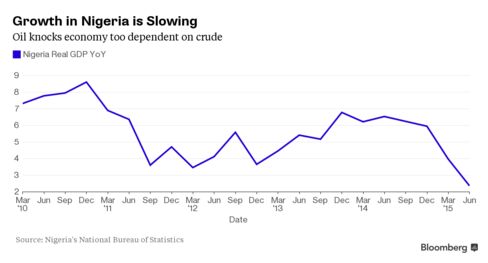 Kenya's rate decision "has the impact of stabilizing the market and does not curtail expansion of the economy because banks will not punish borrowers," Fred Moturi, head of fixed income trading at Sterling Capital Ltd., said by phone from the capital, Nairobi. "It also shows that the need for growth won over the need to stabilize the currency."
Kenya's shilling has weakened 14 percent against the dollar this year, prompting the central bank to raise borrowing costs by 300 basis points since June. Economic growth has come under pressure following a collapse in tourism and lower tea output, the nation's biggest foreign-currency earners.
Recession Risk
Nigeria's central bank Governor Godwin Emefiele has turned to foreign-exchange controls this year to stabilize the naira after the currency fell almost 10 percent against the dollar in the first two months of the year. The economy of Africa's biggest oil producer is struggling after crude prices more than halved since June last year.
Emefiele said on Tuesday that the economy is at risk of falling into recession next year if "proactive steps" aren't taken to support key industries. Gross domestic product rose at the slowest pace in at least five years in the second quarter, expanding 2.4 percent from a year earlier.
The governor's signaling of a recession is "a clear indication that the growth story has got to be a big focus going forward," Manji Cheto, vice president of Teneo Intelligence in London, said by phone.
Devaluation Pressure
Emefiele has resisted pressure to devalue the naira, a policy stance that's undermined confidence in the central bank and may add to growth concerns as foreign-currency restrictions curb liquidity.
"The strategy seems to be to keep controls in place until demand adjusts to meet available foreign-exchange supply," Razia Khan, head of Africa economic research at Standard Chartered Plc in London, said in an e-mailed note to clients. "This is a contractionary growth stance. Demand for foreign exchange will only fall to the extent that the economy slows sufficiently."
JPMorgan Chase & Co. excluded Nigeria from its local-currency emerging market bond indexes this month, concerned that the controls would make it difficult for investors to sell the securities. Emefiele's opposition to a devaluation is backed by President Muhammadu Buhari.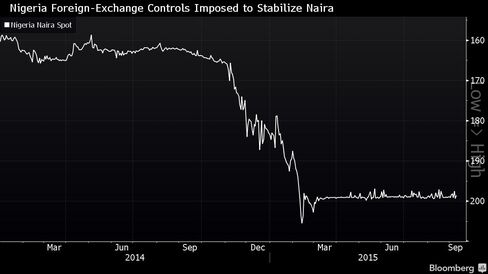 Nigeria kept borrowing costs unchanged even as inflation accelerated to 9.3 percent in August, exceeding the central bank's 6 percent to 9 percent target band for a third month. In Kenya, inflation eased to 5.8 percent in August, bringing it closer to the middle of the central bank's goal of 2.5 percent to 7.5 percent.
South Africa's central bank will announce its rate decision after 3 p.m. local time on Wednesday. All but two of the 31 economists surveyed by Bloomberg predict the benchmark rate will be kept at 6 percent.
Before it's here, it's on the Bloomberg Terminal.
LEARN MORE