China Debt Surge Echoes Japan Slowdown Pattern, Chanos Says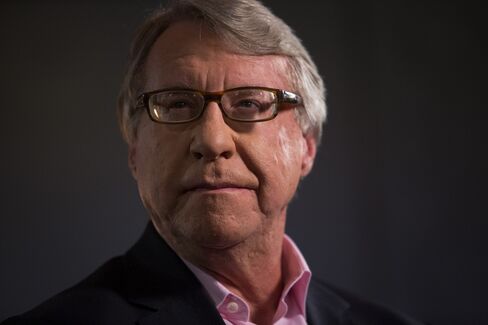 Debt relative to GDP repeating pattern before lost decade

China has made `missteps' in handling stock market meltdown
China is on a path similar to the one that preceded Japan's lost decade in the 1990s as the country's debt level grows twice as fast as its economy, according to Jim Chanos, the hedge fund manager who predicted the 2001 collapse of Enron Corp.
"We have an economy addicted to credit," Chanos, founder of Kynikos Associates LP, said during a panel discussion on China in New York Tuesday. While the country doesn't appear to be facing an "imminent collapse," it is on a trajectory similar to the one Japan was on before its asset-price collapse in 1991 "but on steroids," he said.
Chinese annual loan growth has slowed to about 15 percent from more than 30 percent in 2009, that's still double the pace of expansion in gross domestic product. Total household and corporate debt surged to 207 percent of GDP in June, up from 125 percent at the end of 2008 when China embarked on a borrowing binge to stimulate the economy, according to data compiled by Bloomberg.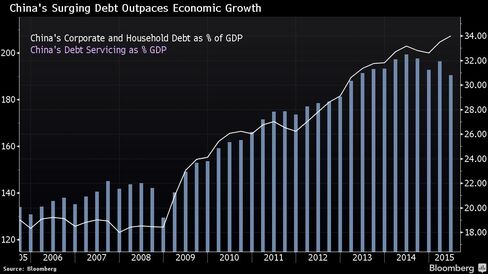 Japan's total debt swelled to 176 percent of GDP in 1990 from 127 percent in 1980, according to JPMorgan Chase & Co. The burst of the housing and stock market bubble since then led to anemic economic growth in the following years, a period commonly referred to as a lost decade.
Economic Deflation
China, which surpassed Japan as the world's second-largest economy in 2012, posted a 6.64 percent expansion in GDP last month, below the government's target of 7 percent this year. The country has been growing at the slowest pace since 1990, Bloomberg's monthly gross domestic product tracker shows. By Chanos's estimate, growth in nominal GDP has slowed to 5 percent, from 15 percent in 2010 with the economy slipping into deflation.
"It takes time to sort out" the debt overhang, said Chanos. The investor has forecast since at least February 2010 that the country's property market will slump, saying that China is Dubai times a thousand and on a "treadmill to hell" because of its reliance on real estate for growth.
Manufacturing Gauge
A private gauge of the Chinese manufacturing industry released Wednesday fell to the lowest since March 2009, underscoring challenges facing the economy. The decline in the preliminary Purchasing Managers' Index from Caixin Media and Markit Economics for September send the Shanghai Composite Index down 2.2 percent and helped weaken the yuan trading offshore the most in three weeks.
Even though Chanos is bearish on the outlook for China, he said he isn't shorting the country's stocks because the equity market isn't a reliable gauge of economic activity. Instead, the slowdown will claim victims in global commodity and mining companies, especially liquefied natural gas producers in Asia, he said. Chanos said earlier this month that he's betting against Cheniere Energy Inc., a U.S. natural-gas exporter.
Bullish Outlook
Raw-material producers have been on a spending tear to feed Chinese demand. Global capital spending in the mining sector surged to $125 billion at the peak of 2012, from $14 billion in 2001 when China joined the World Trade Organization, and from $4 billion in 1991, according to Chanos.
Speaking at the same event, Ted Wang, chief investment officer at hedge fund Puissance Capital, said he's more optimistic about China's outlook.
While older industries that rely heavily on capital investments and exports are slowing, consumer-oriented companies that sell to China's expanding middle class are thriving, said Wang, former co-head of equities trading for the Americas at Goldman Sachs Group Inc. Health-care, Internet and education companies are among those creating opportunities for investors as President Xi Jinping's government is moving to push through economic reforms, he said.
"Xi will level the play field and unleash the creativity" of the Chinese people, said Wang, who spent 18 years at Goldman Sachs before setting up Puissance in January.
'Pig on LSD'
Investors' confidence in China's ability to manage the transition to a market-oriented economy has weakened in recent month as a stock market rout prompted unprecedented intervention by the government. The government spent 1.5 trillion yuan ($236 billion) from the start of the selloff three months ago through August trying to control a plunge that wiped out about $5 trillion in market value, according to Goldman Sachs.
Chanos said investors should avoid betting on Chinese companies listed in the U.S., Europe and Hong Kong, including big names such as Alibaba Group Holding Ltd., because they have the variable interest entity structure. He also said the Chinese government has made "missteps" in its handling of the stock-market crisis.
"It's just a highly speculative market," said Chanos, who has no plans to visit China. "It's like a pig on LSD. You don't know which way it's going to run."
Before it's here, it's on the Bloomberg Terminal.
LEARN MORE