Egyptians Urged to Dig Into Pockets to Finance National Recovery
El-Sisi appeals to patriotism as oil slump endangers Gulf aid

Suez certificates succeed in luring under-the-mattress cash
When an ancient Egyptian statue was put up for sale by a British museum, the government in Cairo called for its rescue on behalf of the nation -- without offering to put up the cash itself.
Instead, the minister for antiquities urged Egyptians to dip into their pockets and buy it. He was only following his boss's example: such appeals have become a policy trademark under President Abdel-Fattah El-Sisi. The ex-general raised more than $8 billion to expand the Suez Canal by selling investment certificates to the public, and may be tempted to repeat the formula.
El-Sisi is touting a series of so-called megaprojects to revive Egypt's economy, from widening the Suez Canal to reclaiming swaths of desert and building a new capital east of Cairo. But who will pay for them? Egypt has one of the region's biggest budget deficits, capping its ability to sell more bonds. And the Gulf nations that backed El-Sisi through the turmoil of recent years may be looking to scale back aid, as the oil slump hits their own finances.
"Funding will be a problem," said Edward Coughlan, head of Middle East and North Africa analysis at BMI Research, a unit of Fitch Group. "Egypt's dire fiscal position does not allow for much more debt -- either domestic or international."
Signs of Recovery
That's why the president is turning to the public -- even though average income is only about $3,000 a year in an economy that has faltered amid political turmoil. The budget deficit soared above 10 percent of output after the uprising of 2011 and stayed there, debt is nearing 100 percent of gross domestic product, and the central bank had to deplete reserves to prop up the pound.
There have been signs of recovery lately. Growth edged above 4 percent in the last fiscal year for the first time since 2011, according to the International Monetary Fund, and economists surveyed by Bloomberg have been getting more optimistic about 2016.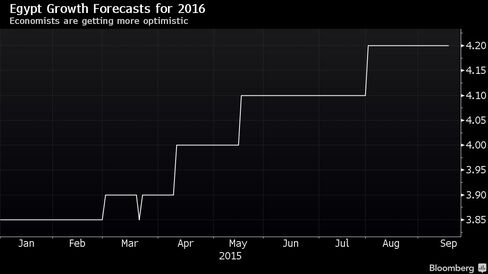 To maintain the momentum, the government will have to keep spending, said Hany Genena, chief economist at Cairo investment bank Pharos Holding. It's state-led projects like the Suez overhaul, along with new roads and power plants, that are driving the rebound, he said -- and that makes it fragile.
"It's worrying that in the coming six months or year, we're relying on a single entity, the government, whose capacity is limited given the availability of financing," Genena said.
Persian Gulf monarchs have kept Egypt afloat under El-Sisi, whose hatred of political Islam they share. Saudi Arabia and its neighbors have contributed more than $30 billion in aid and investments since mid-2013, when Egypt's Islamist leader Mohamed Mursi was ousted by the army after mass protests. But their revenues have also plunged in the past year as crude prices dropped by half.
That "should definitely feed through into less money available for investments in Egypt," said Anthony Simond, who helps manage $13 billion of emerging-market debt at Aberdeen Asset Management Plc in London. "If oil prices stay below $60-70 for the next couple of years then Egypt may have to seek other major investors for its large infrastructure needs."
El-Sisi's crowdfunding drive began shortly after he took office in June 2014. He set up a fund to collect contributions, naming it "Tahya Masr" or Long Live Egypt, and primarily targeting wealthier Egyptians. Leading by example, El-Sisi pledged half of his monthly 42,000 pound ($5,364) salary along with half of his assets.
"I swear to God, if I had $100 billion I wouldn't think twice, I'd give it to Egypt," El-Sisi told local businessmen during a meeting in June, according to El Watan newspaper.
'Make Sacrifices'
A year after its foundation, though, the fund has only amassed 6.75 billion pounds, less than 1 percent of total state spending, according to El Watan. Presidency spokesman Alaa Youssef did not answer phone calls or a text message seeking comment on the issue.
Egyptians like Sawsan Fuad, a 41-year-old mother of two who said she voted for El-Sisi, are unimpressed with the repeated appeals for cash. They want to know what their government can do for them, rather than the other way round.
"We've had a year of people asking us to help and make sacrifices," Fuad said. "I'm not sure what else to give up to make ends meet. The only thing left is to stop eating or stop sending the children to school."
The biggest success for El-Sisi's crowdfunding was when he offered something in return. Egyptians snapped up 64 billion pounds ($8.2 billion) of special investment certificates, issued to fund the Suez expansion, in less than a week. They pay a 12 percent annual interest rate, and aren't traded on secondary markets. Only Egyptian individuals and institutions were allowed to subscribe.
'Element of Patriotism'
The government may resort to issuing more certificates to fund the planned new capital city, Al Mal newspaper reported last month. U.A.E. real estate tycoon Mohamed Alabbar, who signed an initial accord to be the project's main developer, is no longer slated to play that role, according to officials.
Such instruments "are an alternative source of liquidity that doesn't necessarily come from the banking sector," said Razan Nasser, senior Middle East and North Africa economist at HSBC Holdings Plc in Dubai. "Some people use the money from under their mattresses."
There are other advantages for the government. Borrowing through that channel doesn't show up on the official budget, so it avoids making already bad metrics look worse, said Coughlan.
Also, "the debt raised is less susceptible to rising global interest rates and investor sentiment towards Egypt," Coughlan said. "There's an element of patriotism when it comes to some emerging markets, so it's often cheaper to raise debt that way." He predicts more such sales.
By contrast, the effort to raise cash for the Pharaonic statue -- an image of the scribe Sekhemka, carved from garnet about 4,500 years ago -- was a flop. The Northampton Museum has sold it to an anonymous private collector instead. "There was little hope of saving the statue to begin with," said Moushira Moussa, a spokeswoman for the Egyptian Antiquities Ministry. "Now it is lost forever."
Before it's here, it's on the Bloomberg Terminal.
LEARN MORE